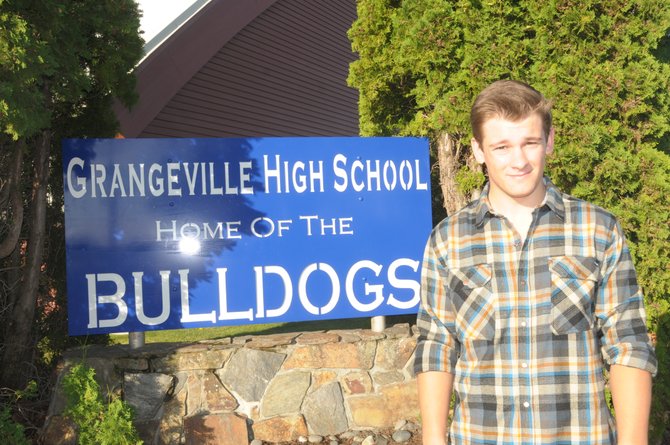 Photo by Lorie Palmer
Grangeville High School student Travis Goehring recently placed the new sign he designed as part of his senior project.
GRANGEVILLE — As the '80s lyrics go, "I saw the sign. I opened up my eyes and saw the sign." A new brightly-painted sign at Grangeville High School is hard to miss. And that's a good thing.
Travis Goehring has given a lasting gift to GHS.
"Yeah, I think 14-gauge and 11-gauge steel should last for a while," he laughed, pointing to the new sign at the front corner of the school.
As part of his senior project, Goehring designed and had made and powder-coated a new school sign.
Goehring said it was Principal Steve Higgins' idea and he ran with it.
"I like to design, build, restore and weld, so this was a good project for me," he said.
He created the sign design on the school's computer software program, Solidworks, and went over fonts with a little help.
"Mrs. Dave [school secretary] and I went over fonts, back and forth, for about an hour," he smiled. "Finally we met somewhere in the middle."
He had the sign water cut at Aqua Jet and then took the signs to Lewiston for powder coating. The front part of the sign bears the words "Grangeville High School Home of the Bulldogs" and is painted blue. The piece behind the cut-out words is painted white.
Twenty-three hours went into the project so far. He placed the sign last week, using the school's facility to weld brackets.
"I still want to clean up and landscape the area around the sign a little, but that will probably wait until closer to the time we present our projects in May," he said.
While Goehring said he is not sure about the total validity of requiring a senior project ("It's such a hectic year as a senior, anyway," he said) he admitted he enjoyed the project and the opportunity to provide a lasting gift.
Following graduation Goehring plans to attend the University of Idaho where he may major in business or engineering. He is the son of Dan Goehring and Rawanda Goehring, both of Grangeville.
"I just hope people like this," Goehring said as he wiped the sign down last week. "I think it's a good contribution to leave for the school and the community."