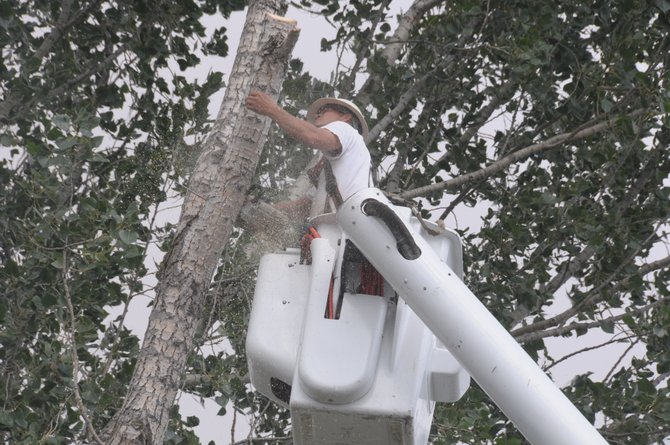 Photo by Lorie Palmer
Jonathan Rich Tree Services were busy at Syringa Hospital on Grangeville's Main Street last week. They removed two trees, one cottonwood and one maple. The hospital is starting construction on a new entrance which is expected to be complete by Oct. 24.
GRANGEVILLE — The removal of two large trees – one cottonwood and one maple – in front of Syringa Hospital last week is the beginning phase of renovation plans for the facility.
"We expect it will be late next month, depending on the weather, for Crea Construction to complete the outside work initiated last week," said CEO Joe Cladouhos. This includes grading, paving and striping the expanded parking and patient drop-off by the main entrance.
The current construction will make way for a new entrance to the hospital that will allow for easier patient pickup and drop-off as well as a safer route to enter the building.
The construction schedule is as follows:
•Sept. 10-19 – demolition, relocation of catch basin, rough site grading •Sept. 15-30 – finish site grading, installation of heat mats and prep work for concrete
•Sept. 23-Oct. 14 – installation of concrete flatwork, curbing and driveway approaches.
•Oct. 7-15 – prep work for asphalt paving
•Oct. 15-17 – place topsoil
•Oct. 20-21 – place asphalt
•Oct. 22-23 – Striping, signage and flagpole installation
•Oct. 23-24 – clean up and move out
"If things go according to schedule and delivery dates are not changed, the project is scheduled to take six weeks which started Sept. 15," said project architect Rhonda Wemhoff.
Funds for the renovation – which includes several phases both inside and outside – are to come from several sources including the Webb estate donation, grants and money cultivated through fund-raising efforts.