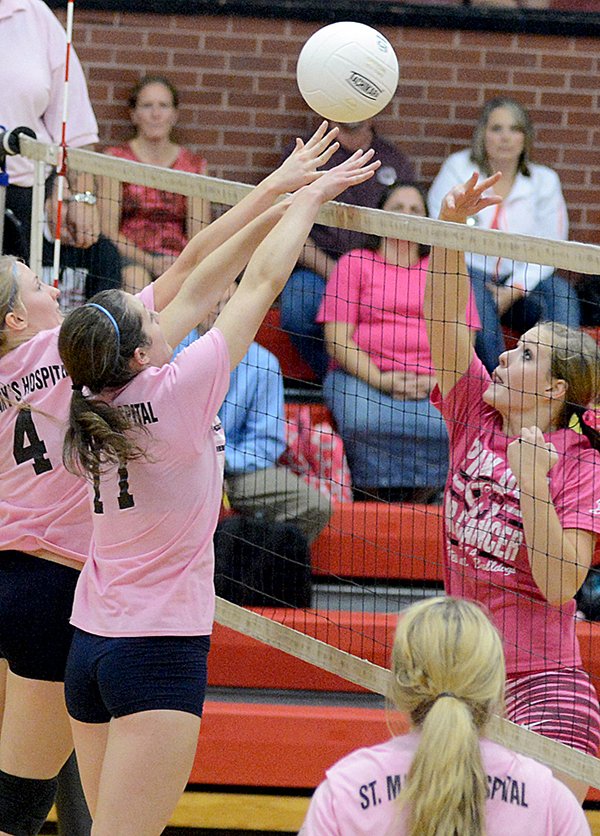 Photo by Andrew Ottoson
Prairie's Holli Uhlorn (right) played this 50-50 ball away from Grangeville's blockers during a Sept. 22 "Think Pink" match at PHS.
COTTONWOOD — Prairie locked up a season sweep of Grangeville with a Think Pink victory (25-20, 25-15, 25-13) last Monday night, Sept. 22.
After taking a 6-1 lead in the first game, the Pirates bobbled a few serves from GHS junior Hailey Sullivan and yielded a heavy hit to sophomore Rachel Kelley, whose kill lifted Grangeville within 6-4.
Prairie sophomore Chaye Uptmor answered with a run that included an ace at 9-4. But after a series of sideouts took the score to 12-7, Grangeville senior, Addie Lutz, served the Bulldogs to a 12-12 tie, with a kill by Sullivan prompting a PHS timeout.
Prairie junior Hailey Danly stepped to the serve line with the score tied at 13-all, and ran off three straight points.
Grangeville closed within 16-14, but Prairie immediately sided out to put senior Kayla Schumacher at the stripe. Schumacher dealt the next seven serves, her run only broken by another of Sullivan's kills.
Sullivan then served up a run for Grangeville, with an ace reducing Prairie's lead back down to two points, 22-20.
Prairie sealed the game with two well-placed hits — a change-up by Krystin Uhlenkott, then a rocket by Shayla VonBargen.
Grangeville briefly led the second game after Sullivan and junior Madison Brown combined for an early block against Uhlenkott. Then Kelley struck again, making it 3-1, Bulldogs.
But after deadlocks at 6-6 and 7-7, Prairie began to build a lead. Senior Tasha Gimmeson — who attached the breast cancer awareness fund-raiser to the game for her senior project — scored twice.
Then VonBargen took an electrifying turn at the service line: she ran the score from 11-9 to 19-9 with five aces, including three in a row, a blistering one of which was shanked 90 degrees into the Grangeville student section in the upper level of Prairie's two-tiered seating setup.
After Prairie's serving picked up, the third game immediately went sideways for Grangeville.
Up next for Prairie (7-1), the Pirates will host Lapwai on Thursday, Sept. 25, and will host Troy on Tuesday, Sept. 30.
Lapwai edges Grangeville
LAPWAI — On Sept. 16, Lapwai pulled out a five-set win over Grangeville (25-19, 15-25, 20-25, 25-21, 16-14) despite GHS winning more than half the points in the match.
For Grangeville, Madison Brown delivered eight kills and five blocks; Maicee Conner and Sarah Wilson each delivered seven kills while using the lion's share of the attacking chances.
Conner and Sullivan anchored the back row with 21 digs and 19 digs, respectively.
Up next for Grangeville (9-5) are trips to St. Maries on Sept. 27, and Orofino on Sept. 30.