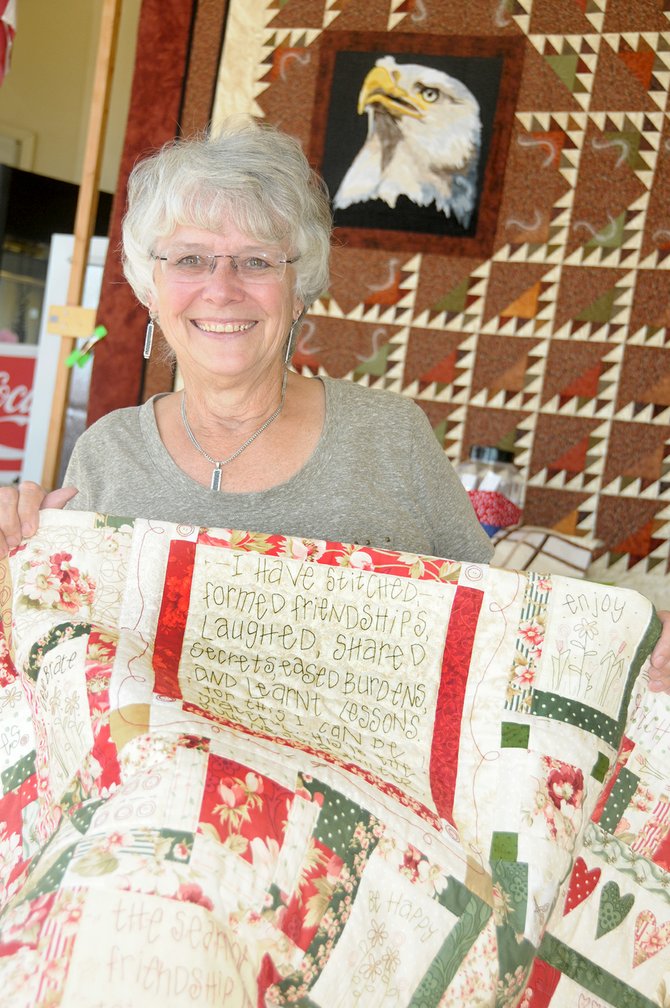 Photo by Lorie Palmer
Cathie Orr is the featured quilter for the Sew-Ciety quilt show which is set for Sept. 27 and 28 in Grangeville. She is holding a quilt she made and the guild's raffle quilt is pictured in the background.
GRANGEVILLE — Get your projects completed, it's time for the biennial quilt show.
Entitled "Forever Free," the ninth show will take place Saturday and Sunday, Sept. 27 and 28, at Grangeville Elementary Middle School, 400 South Idaho. The event is sponsored by the Sew-Ciety Quilters of Grangeville and will be open Saturday from 10 a.m. to 5 p.m., and Sunday, 11 a.m. to 4 p.m. Admission is $3 per person.
The quilts entered in the show are not professionally judged, but People's Choice winners will be awarded ribbons. The last quilt show in 2012 saw more than 200 quilts entered. Anyone wishing to enter a quilt in the show this year may pick up an entry form at Home Grown Quilts, 207 West Main, in Grangeville.

This year's featured quilter is Cathie Orr of Kamiah. She was born and raised in Boise and lived there for 60-plus years, moving to the Kamiah area upon retirement. She was a member of the Boise Basin Quilters where she attended as many quilt classes as she could in various venues including Jackson Hole, Wyo., and Stanley. When she won her first blue ribbon in McCall, she said she was officially hooked. She has worked in Grangeville at the local quilt store and teaches many classes there. Besides being a member of Sew-ciety Quilters in Grangeville, she is also a member of Central Idaho Quilters in Kamiah. She is a prolific quilter, having made hundreds of quilted items, including quilts, wall hangings, table toppers and purses.
An opportunity quilt will be raffled off at the show Sunday, Sept. 28, 3 p.m. Raffle tickets will be sold at the show up until the raffle time for $1 apiece or six for $5. The opportunity quilt proceeds benefit community service projects throughout the year, including Quilts of Valor, Festival of Trees and Hope Center. The quilt, called "Forever Free" is a queen-size quilt made in earth tones with a bald eagle design on it.

Food will be available for purchase at the show with proceeds going to the organization(s) providing the food. Coffee and breakfast items in the morning, a hot dish for lunch and snacks, too, will be available.
Vendors are also present to help purchase pattern or fabric. There will also be raffles for quilted and quilting items, and the Country Store will be there with books, patterns and other quilting accessories.