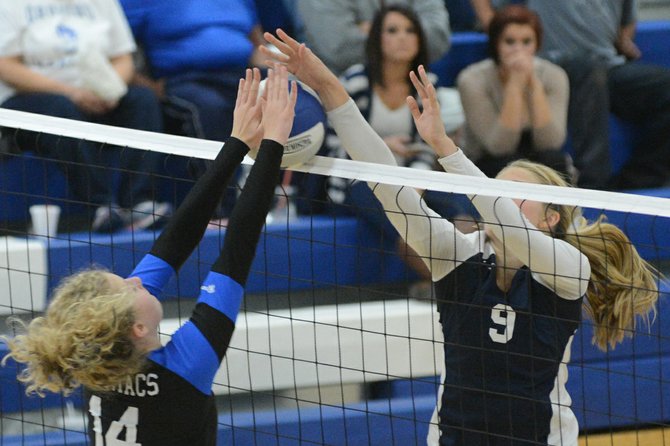 Photo by Andrew Ottoson
Grangeville junior Madison Brown provided an effective net presence on Sept. 30 at Orofino. Pictured is Brown winning a joust against Maniacs junior Cassidy West.
OROFINO -- The Maniacs took a 2-0 lead in a Tuesday night, Sept. 30, Central Idaho League match and went on to deny Grangeville the league lead with a four-set victory, (25-18, 25-19, 22-25, 25-17). Had GHS come away with a victory, the Bulldogs would have held a 3-0 record and a two-game lead over the Maniacs with less than three weeks left in the regular season. Instead, the CIL leaders both stand at 2-1 heading into the second league tri-match, Oct. 11 at Orofino. Grangeville will have several non-league games to regroup: the first of which is a tri-match with Kendrick and Summit Thursday night, Oct. 2 at GHS.
Check the Oct. 8 Free Press print edition for a full report on tonight's action.