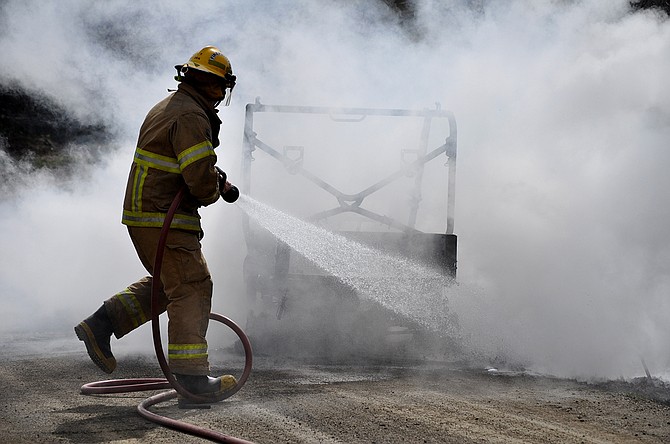 Photo by David Rauzi
Firefighters made quick work of a UTV fire on Mager Lane Monday afternoon.
GRANGEVILLE – No injuries were reported in a Monday afternoon fire that destroyed a UTV on Mager Lane just south of Grangeville.
Cause is undetermined but it may be possibly electrical related, according to Assistant Chief John Sangster, Grangeville Rural Fire Department (GRFD). The fire reported originated under the vehicle seat.
The fire was reported March 30 by UTV owner Robert Johnston at 1:45 p.m. approximately one mile up Mager Lane. Initial response was by Idaho County Sheriff's Deputy Mike Brewster who tried to put it out with an extinguisher but the fire was too large, according to Sangster. The fire spread to adjacent grass and brush, and Brewster reported ammunition in the UTV was "cooking off."
Eight GRFD volunteers and two engines responded and had the fire out and scene mopped up within a half hour. Crews cleared the scene near 3:30 p.m.