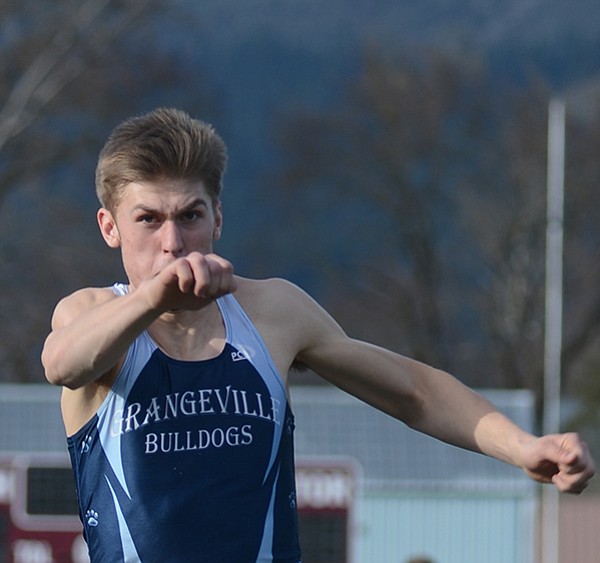 Photo by Andrew Ottoson
Grangeville's Michael Stevens set a new school record by covering 45 feet in the triple jump last Thursday, March 26, at Kamiah.
KAMIAH — The last meet before spring break has long drawn athletes from near and far. As the clock ticked toward 3 p.m. last Thursday, March 26, a start time snafu had left event runners wondering whether a few local teams would even be attending.
The Grangeville bus arrived in the nick of time, and one by one the Bulldogs delivered top performance in nine events. The GHS boys placed first in a field of 12 teams, which included at least one of Meridian-area Cole Valley's male athletes.
The Grangeville girls placed second to Lewiston in a field of 11 teams.
Among the girls, GHS senior Kaleala Bass was boss in the 200, 400 and 800. She ran the only sub-27 time in the 200 (26.71). Her times in the 400 (60.53 seconds) and 800 (2:19.89) put her a bit ahead of junior teammates Hailey Sullivan and Emily Kaschmitter. Sullivan placed second with a 62.69 in the quarter-mile, and Kaschmitter placed second with a 2:37.67 in the half-mile.
Two GHS girls relays placed second. The 4x200 of Maggie Chmelik, Kally Arnzen, Mikayla Ruzicka and Kaschmitter placed second to Orofino with a 2:02.83. The 4x400 of Chmelik, Darby Finnegan, Meagan Hohman and Kaschmitter placed second to Prairie with a 4:45.47.

On the boys side, senior Michael Stevens unleashed a 45-foot triple jump. He took an aggressive first step — the "hop" — and extended his second step — the "skip" — nearly to the runway lip. From there, Stevens' jump carried him to the limit of what the sand pit could contain. He snapped a decades-old school record in the process. In 1981, Todd Marek triple jumped 44-4. "That's what they're there for, for people to look at and gun for," Marek said. "He earned it."
Another GHS senior — Drew Lindsley — stayed in the hunt for another long-standing school record. He won both the shot put and discus throw, setting new personal bests in the process.
Lindsley snapped off an
improvement of more than two feet over his previous best in the shot put, firing the 12-pounder 51 feet, 11 inches.
While not every school reports its results via athletic.net, Lindsley's pop is the only 50-foot mark reported for a 2A athlete statewide since last year's state championship. (St. Maries' Luke Feasline won the 2014 title with a shot put in excess of 52-10.)
The school discus record Lindsley targets is tantalizingly safe for now. Less than a week after staking a claim to the mid-170s, he launched another one into that same stratosphere — its flight measuring 175 feet, four inches.
Two GHS juniors also won boys events. Diego Barela doubled in the 800 (2:07.52) and 1,600 (5:00.34), and Dillon Alder cleared 5-10 in the high jump. Grangeville also tabbed the following second place boys finishes: Alder (19-6 long jump), Cole Lindsley (44-10 boys shot put), and Stevens (15.82 boys 110 hurdles, 42.14 boys 300 hurdles).
Other area teams also fared well in team scoring, as Kamiah placed second on the boys side and Prairie placed third on the girls side.
Prairie sophomore Mykaela McWilliams doubled in the girls hurdles, taking the 100 hurdles in 16.86 seconds and the 300 hurdles in 49.87 seconds. At press time, both of McWilliams' hurdles times ranked second on the athletic.net 1A top-10 lists.
Another PHS sophomore, Chaye Uptmor, won the girls 1,600 (6:16.25).
Prairie's 4x400 girls relay of Laney Uhlenkott, McWilliams, Shayla VonBargen and Krystin Uhlenkott won that event in 4:24.67. The same group placed second in the 4x100 (54.19).
Individually, Uhlenkott, a junior, placed second in the girls triple jump (31-11).
For the PHS boys, senior Lucas Arnzen finished the 100 (11.76) a full tenth of a second faster than Kamiah junior Cody Langston and Clearwater Valley sophomore Trey Pfefferkorn, who tied for second at 11.87.
Lewiston senior Lance Dvorak (23.81) nicked Arnzen (23.85) by a few hundredths in the 200. In the 400, Arnzen (52.32) put more than two-tenths between himself and Lewiston junior Noah Purcell.
Already running in their fourth competition of the season, the Kamiah boys won three relays and were kept from a sweep only by Clearwater Valley's medley of Isaac James, Pfefferkorn, Clayton Stamper and Cole Olsen (4:07.09). Kamiah's quartet of Langston, Bradley Knight, Garrison Bretz and Jason Lloyd finished the mile medley in 4:11.30.
KHS won the 4x100 (45.70) with Bailey Christopherson leading off for Langston, Knight and Taylor McCallister. Kamiah's winning 4x200 (1:35.75) featured Christopherson, Carson Beckman, Langston and McCallister, and the winning 4x400 (3:38.34) put McCallister with Jason Lloyd, Parker Whipple and Chris Pethtel. Individually, Whipple (5-10) placed second to Alder in the high jump by way of taking more attempts to clear the same height.
KHS senior Brooke Eades won the girls shot put (37-1) and led off the second-place half-mile medley relay, with the baton handed from Eades to Chanelle Broncheau to Lacey Kludt to Jasmine Hernandez in a time of 2:11.69. KHS sophomore Chelsea Robinson placed second in the girls 3,200 (14:06).
On top of their medley relay win and Pfefferkorn's runner-up placing in the 100, the Clearwater Valley boys marked Olsen's win in the 3,200 (11:08.24).
For the CV girls, senior Felicia Reuben placed second in the shot put (31-9).
Coming — With schools on spring break, most area athletes are off this week. GHS resumes April 9 at Lapwai. CV and Prairie pick up April 11 at Kamiah.