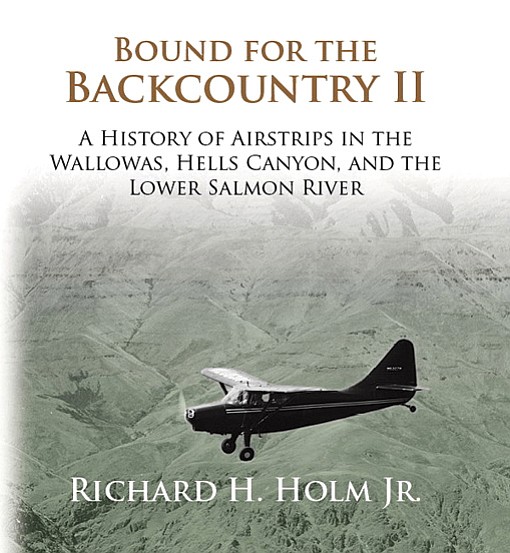 The second volume of Richard Holm Jr.'s "Bound For The Backcountry" set holds out a rare public account of the private people who pioneered air travel in the canyon country that lends the land so much of the remoteness Idaho County people enjoy. Holm originally envisioned chapters in his first "Bound For The Backcountry" book for this collection of stories, which span Hells Canyon, the Doumecq and Joseph plains, the Salmon River and the Craig Mountain Wildlife Management Area. But in the course of writing Holm decided – quite rightly – that these stories deserve a book of their own.
Holm tells of dozens of landing strips, and in the course of laying out history of the ground and the people who used it, Holm presents a wealth of material – including aerial views of the sites as well as photos of aviation-friendly families who built homes, ranches and private airstrips in the area.
"The book covers the individual histories of more than 40 landing sites, which are organized by drainage in three main chapters – the Eagle Cap Wilderness (Minam River), the middle Snake River (Hells Canyon Dam to Cache Creek), and the lower Salmon River (American Bar to the Snake River)," Holm wrote.
When writing about the Johnson Ranch at Getta Creek, Holm traces the lines of the land from the time the Aram family started buying up patented land "for next to nothing" to the bank's foreclosure on the property during The Great Depression. The Arams eventually sold out completely to the Johnsons, and flyers occasionally landed at the Johnson Ranch during the 1940s.
"George Foster of Grangeville was the first person to land there," Holm wrote. "One emergency landing was made on an Easter weekend in the 1940s when a Zimmerly pilot flew one of the Dobbins's grandkids that had suffered a broken bone to Lewiston."
In the same section, Holm relates the story of an emergency rescue that made Foster famous as subject of a 1956 Chevron ad campaign. When one of the Johnson family's neighbors came down with appendicitis, Foster flew in and landed in a 500-foot upsloping hay field downstream from the cabin where Bob Dobbins lay stricken.
While the book sheds some light on the lives and times of some prominent local families, Holm includes an appropriate disclaimer: "This is a history book, not a guide or a how-to book. While the active designated airstrips on federal and state land are generally open to the public, a good portion of the airfields chronicled within are on private property. Readers should respect landowner rights and ask for permission prior to using their runways."