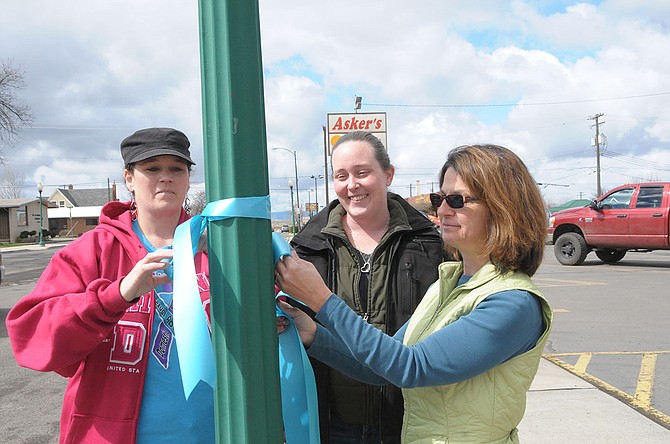 Photo by Lorie Palmer
(L-R) YWCA advocate Kristy Beckstead and area task force volunteers Amanda Davis and Marsha Lance were busy hanging teal Sexual Assault/Domestic Violence Month Awareness ribbons on Grangeville's Main Street Thursday, April 3.
GRANGEVILLE — "Thank you for what you're doing," said an unidentified teary-eyed woman who pulled over on Grangeville's Main Street Thursday, April 2, as members of the Idaho County Domestic Violence Task Force hanged awareness ribbons on lampposts.
"That's just one reason we do this," smiled advocate Marsha Lance, who, along with YWCA advocate Kristy Beckstead and task force member Amanda Davis walked Main Street to hang the reminders. They also placed ribbons in Cottonwood and Riggins.
April is Sexual Assault Awareness Month and the task force is working on a variety of areas to help alert the public to sexual assault and domestic violence.
"We want people to remember those who don't always have a voice, and to help stop the violence by bringing it out in the open," Beckstead stated.
Upcoming events to bring awareness include the following:
•Latte and Learn, April 12-18: Buy a drink at a variety of java shops and look for a sticker on the coffee cup. Did you know every two minutes someone is sexually assaulted in the U.S.?
•Eat out April 19-25: Read the table toppers at local restaurants that will offer a variety of myths and statistics.
•Denim Day, Wednesday, April 29: In 1999 a rape conviction was overturned by an Italian court because the victim was wearing jeans that the court determined could not have been removed without the victim's consent. Wear denim to show it doesn't matter what a person wears; sexual assault is unacceptable. Pick up an "Ask me why I am wearing denim" sticker from the local YWCA office.
•Purse auction May 2: A purse auction to help support the Grangeville YWCA and local victims of domestic violence is set for Saturday, May 2, at The Hangout in Cottonwood, 4 p.m. Donate an empty or full purse now or simply stop by for the auction. Food will be served for $10 a plate. No admission to attend the auction. All proceeds go to the Grangeville YWCA.
For details call Beckstead at 743-1535, stop by 221 West Main Street Suite 21 (upstairs) or e-mail kristyb@idaho.net.