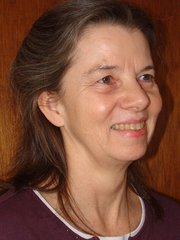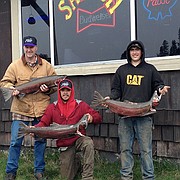 ELK CITY — The VFW Auxiliary and Post wish to belatedly thank Holly and Marty at the Wilderness Eatery, Jessica Montgomery at the Elk City General Store, Cheryl Sims at the Elk Creek Station and Café, Jamie and Mike Edmondson, Elk City Hotel, Benny Thompson and Missy Osborn, Becky and Tim Chaffee, and all of the other volunteers who spent time at the school. Their support made the annual Easter egg hunt a success. There were a number of children who came for the hunt, which gives us a reason to continue our annual Easter program. Again, the Post and Auxiliary would like to thank all for their contributions to its success.
On behalf of the second annual Steelhead Derby, Anita pens, "We would like to thank everyone for participating in this year's second annual Steelhead Derby. We had a total of 12 entrants and three donors. That's three more entrants than last year! Randy Wagner donated a beautiful wood-burned art fishing rod holder, which was won by Adam Perry whose name was drawn from the total entries. We would also like to thank Nick and Marci Gerhardt and Paul Moroz for their cash donations."
Jasper Thompson, Adam Perry and Jimmy Thompson all tied for first place with three each, keeper fish of 36 inches and weighing 12 pounds. The smallest fish was caught by Jasper Thompson and it was 25 inches weighing in at six pounds. Jasper also caught the most fish, but there was no prize for that honor. All entrants received a Koozi from the Elk City Saloon and Café. Matt Jameson was given a custom-made hat for catching the first fish of the season "and because he is such a trooper and mentor" noted Anita. She would also like to recognize and thank Chris Thompson "for hosting the check-in station and weathering the storms all week, along with the entrants. She's a trooper also." If you would like to see more information and photos, check out the Saloon's Facebook page at https://www.facebook.com/ElkCitySaloon.
Meetings: Idaho Food Bank on April 21.
Birthdays: Fletcher Johnson, Jace Wilson, Ginny Lyke, Becky Chaffee and Bryan Cox.
History: Little known Idaho history: A law was passed in Idaho on Feb. 14, 1925, "To Provide for the reading, without comment or interpretation in the public schools maintained and conducted by all school districts of the state, of selections from the Standard American Version of the Bible" (from the Idaho Bulletin of Education, Volume XI, July 1925, Number 3). Found this little booklet among my history notes as I was trying to see what out next history subject would be.