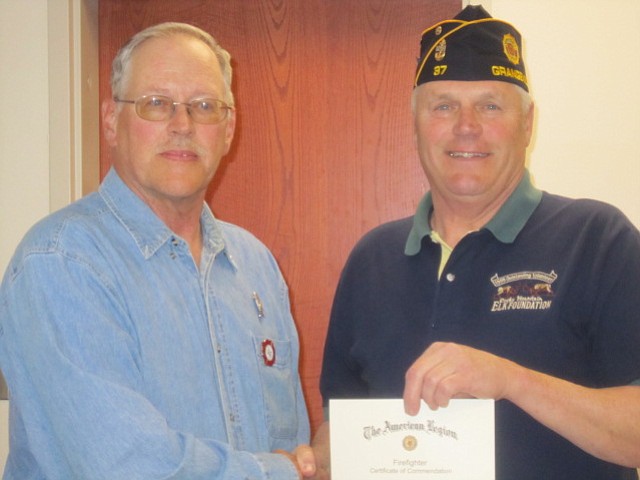 GRANGEVILLE — On March 28 at the Eagles Hall, a crowd of 50 celebrated the American Legion 96th birthday with a banquet, cupcake candle-lighting ceremony and awards to outstanding community members.

Grangeville American Legion Post 37, with the help of Auxiliary Unit members, honored the following individuals:

•Jerry Scholten as Legionnaire of the Year for his "tireless service whenever there is a need for help with post events," honor guard for funerals and color guard for a variety of community events. He is supported by his wife, Judy, who was honored by the Auxiliary as member of the year also for her service.
•Community members recognized included the firefighter of the year, John Urbahn. He was born and raised in Grangeville, coordinates the July 4 fireworks, and volunteers on the Salmon River Rural Firefighters serving White Bird to Pinehurst.
•Educators of the year are Jessica Moore from Grangeville Elementary/Middle School and Tessie Pineda who is the remediation specialist at Grangeville High School. Moore teaches kindergarten and first grade, creates a learning environment for her students not only with academics but also with care for each other and in developing citizenship by learning about the U.S.A. Pineda works with students who have special needs. These students are often the most challenging to work with and Mrs. Pineda is there to support and inspire them to do their best.
•The EMT of the year is Rachel Beeson. She is an EMT-A and has served as an EMT for 13 years and has completed many educational requirements including the Advanced EMT course, PHTLS Course, SIMS and trauma scenario to maintain her skills.
•The Grangeville Police Department Officer of the Year is Phillip Smith. Smith is recognized for his performance in recognizing and arresting intoxicated drivers.
•The Idaho County Officer of the Year is Brian Hewson who was promoted to detective corporal in 2013. He is a member of The Idaho County Sheriff's Emergency Response Team (SERT) and also a member of the search and rescue command staff.

•Also recognized was the Idaho County Free Press for excellence in print media. The Free Press was honored in 2014 as the American Legion State winner for support of veterans with the newspaper. This year the paper is continued to be recognized for printing articles, announcing events and honoring veterans in the community.

•Melinda Hall from KORT Radio was honored at the banquet both for the service of KORT Radio and her personal commitment to service in the community. KORT Radio received the American Legion State Award for Media in 2014.

Commander John Warford presented the awards with the assistance of Adjutant Morris Bentley. Commander Warford presented the American Legion birthday speech. He highlighted accomplishments of the American Legion over the years in service to our country and community. All community veterans are encouraged to join the American Legion. For questions contact Adjutant Morris Bentley at 983-5535.