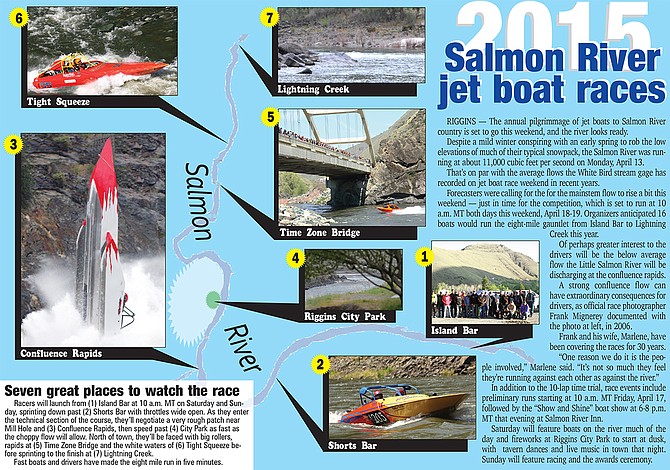 RIGGINS — The annual pilgrimage of jet boats to Salmon River country is set to go this weekend, and the river looks ready.
Despite a mild winter conspiring with an early spring to rob the low elevations of much of their typical snowpack, the Salmon River was running at about 11,000 cubic feet per second on Monday, April 13.
That's on par with the average flows the White Bird stream gage has recorded on jet boat race weekend in recent years.
Forecasters were calling for the mainstem flow to rise a bit this weekend — just in time for the competition, which is set to run at 10 a.m. MT both days this weekend, April 18-19. Organizers anticipated 16 boats would run the eight-mile gauntlet from Island Bar to Lightning Creek this year.
Of perhaps greater interest to the drivers will be the below average flow the Little Salmon River will be discharging at the confluence rapids.
A strong confluence flow can have extraordinary consequences for drivers, as official race photographer Frank Mignerey documented with the photo at left, in 2006.
Frank and his wife, Marlene, have been covering the races for 30 years.
"One reason we do it is the people involved," Marlene said. "It's not so much they feel they're running against each other as against the river."
In addition to the 10-lap time trial, race events include preliminary runs starting at 10 a.m. MT Friday, April 17, followed by the "Show and Shine" boat show at 6-8 p.m. MT that evening at Salmon River Inn.
Saturday will feature boats on the river much of the day and fireworks at Riggins City Park to start at dusk, with tavern dances and live music in town that night.
Sunday will feature racing and the awards ceremony.