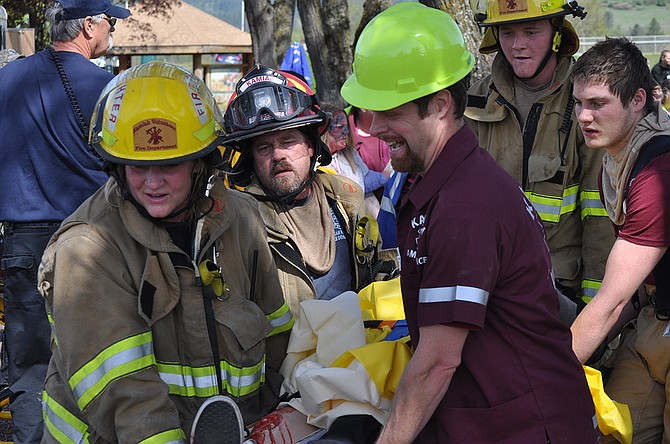 Photo by David Rauzi
Firefighters and EMTs carry a patient to a waiting ambulance for transport during Saturday's mass casualty exercise in Kamiah. Multiple regional EMS agencies participated in the April 25 training to build on skills and practice interagency cooperation.
Who participated?
Among the participating agencies at Saturday's mass casualty exercise in Kamiah included the following:
Ambulance services: Clearwater County, Glenwood/Caribel, Kamiah, Kooskia, Moscow, Nezperce and Syringa;
Fire departments: Glenwood/Caribel, Kamiah;
Hospitals: Clearwater Valley, Gritman, Syringa, St. Mary's, St. Joseph's.
Others: emergency management offices of Clearwater, Idaho, Latah and Lewis counties; Kamiah Marshal's Office, Kamiah Kiwanis Club, Life Flight, Public Health Idaho North Central District, Medical Reserve Corps Volunteers, Idaho State Communications Dispatch Center.
Photo Gallery
North Central Healthcare Coalition mass casualty exercise April 25, 2015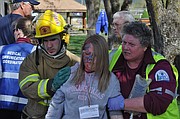 The North Central Healthcare Coalition organized a regional mass casualty exercise for area EMS responders at Kamiah's Riverfront Park on Saturday, April 25. The exercise scenario involved an overturned school bus with 28 patients, adults and children, needing triage, treatment and transport to area hospitals.
KAMIAH – Chaos reigned with the noise of running engines, crying voices and shouts of command. Firefighters powered up a saw, and as the blade ground into the steel roof of the overturned bus, the wounded inside – kids, adults — screamed in reaction.
"We need extra EMTs over here," yelled one woman from amidst several bodies lying on tarps in a triage area. A sharp reply came back, "We don't have them at the moment," from a second woman as she hustled to yet another critical area.
The stress was real, but the injuries and circumstances were staged as part of a full-scale mass casualty exercise involving emergency services providers and four hospitals across multiple counties. Staged at Kamiah's Riverfront Park last Saturday, April 25, the scenario involved 28 patients suffering a range of medical conditions and injuries – lacerations, broken bones, head injuries, even a pregnant woman in labor — following a school bus accident. The exercise was designed to test regional EMS agencies' response of the emergency medical system, incident command, extrication and scene medical treatment, transport, as well as how hospitals handle the influx of patients. The drill was held in real time with responders dispatching from their respective areas – though in non-emergency response and no lights and sirens — to the crash site.
The four-hour exercise was organized by the North Central Healthcare Coalition, comprised of Idaho Public Health, regional EMS responders, emergency managers of the five north-central counties and Nez Perce Tribe.
"This is a big exercise, and a big exercise takes a lot of planning and a lot of resources," said Michael Neelon, Latah County Disaster Services Coordinator. More than 10 coalition members have worked since March 2014 to organize and coordinate this drill that is not only about training but also on agencies coordinating a joint response where scene management is consistent with training guidelines.
"We train in our own departments with our own people and we get very familiar with how we do things, but our neighbors, they may train differently," Neelon said. Also, larger agencies may have more opportunities for training than smaller entities do. One of the goals with this exercise is to bring EMS providers onto the same page from talking on the radio to taking care of patients that are consistent from agency to agency, he said.
Agencies will receive performance evaluations within a few months to assist them with areas for needed improvement, whether it is training or equipment. Long term, the procedures tested during the exercise will be evaluated for possible statewide adoption.
With the real-time aspect, the exercise provided an accurate look at what such an incident could involve. Extrication was delayed due to initial trouble starting a portable generator. On arrival, EMTs went to treat patients, leaving unattended ambulances that blocked others and delayed patient transports. A Life Flight helicopter planning to participate was diverted en route for a real emergency. As one participant commented, "Real life does take priority."
"This type of exercise works great," said Cottonwood Police Chief Terry Cochran, who along with other law enforcement agencies present was an exercise observer; not participating but still getting an understanding of the dynamics involved for such an incident. "There's large value in this exercise in working with these outside agencies," he said, to work on communications, and on how to coordinate triage to treatment to transportation.
During the exercise, Syringa Hospital was prepared to take seven to eight semi-critical patients, and possibly absorb an additional five to six non-critical if needed, according to RN Eric Kopczynski. They actually received four, variously suffering fractures, head trauma, and one unresponsive 6-year-old.
"Most of them were a bloody mess with wounds, plus dirt and gravel from the scene embedded in their clothing, hair," he said. The four were treated and either transported or admitted as necessary. "Everything ran smoothly at Syringa and was well-coordinated."
Several exercise participants noted the critical need for on-scene communication to clarify between EMS providers their roles on scene. This is to avoid assigned personnel being redirected to another need, such as a firefighter on extrication pulled to assist an EMT in patient transport, leaving their positions vacant without the knowledge of their respective officers. Officers assigned to coordinate areas such as triage or treatment needed to stay focused and remain in charge, avoiding the natural temptation to assist in patient care.
"Overall I think we did a good job," said Dan Musgrave, fire chief for the Kamiah Volunteer Fire Department and incident commander for this exercise. "Communications is always a challenge," he said, as is transporting this number of patients and coordinating available beds at area hospitals. Fire and EMS personnel worked well together, handling the challenges as they arose. For his own agency, one of the takeaways was the need for more in-house trainings on mass casualty incidents.
"All these entities did integrate well together to respond to this," commented Jerry Zumalt, Idaho County Disaster Management Coordinator, during the "hotwash," an after-action gathering for participants to comment overall on the exercise. From his observations, Zumalt noted EMS personnel handled situations in the exercise systematically while maintaining scene safety. "I appreciate you for that."