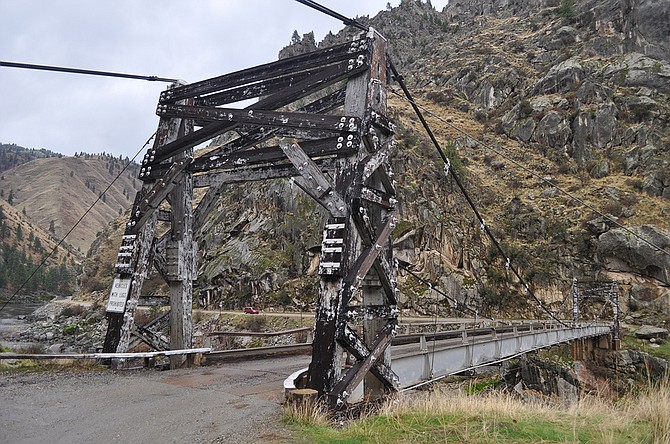 Photo by David Rauzi
Manning Crevice Bridge.
RIGGINS — The Manning Crevice Bridge replacement is set to move forward, albeit a month or two later than the federal Department of Transportation's Western Federal Lands Highway Division had indicated at a public meeting in March.
The project manager overseeing the replacement of the 1930s-era bridge, Greg Gifford, said WFLHD signed off on the project last week, meaning design work is complete and one last negotiation with the contractor remains before work can begin.
"We're preparing the request for proposals," Gifford said. "We did this project as a CMGC, a construction management general contract, where we actually selected a contractor back at 30 percent design, and contractor RSCI has been working with us since that time to develop the plans. We've completed development, and we're going to be giving it back to them for them to give us their final proposal. We're expecting that in late August, first of September."
Construction could still begin yet this fall. WFLHD had originally targeted this month for the start of construction, but is now hoping to start by late September or early October. That could be further delayed by weather, depending on whether a large crane can traverse an over-land route through Burgdorf before significant rain and snow set in.
Though it was originally constructed by the CCC and maintained by the Forest Service, the federal government insisted the county take over the maintenance obligation as a condition of replacing the bridge, to which the county agreed during George Enneking's days on the board.
"We've already agreed to what they said we had to do," Idaho County Commission chairman Jim Chmelik said. "Without that bridge you'd kill a major part of the tourism in Riggins."
The bridge is also important for the future of access and land management in the area – more of which are needed, Chmelik said.
Since 2012, the final cost of the bridge has been estimated at $7-$8 million.