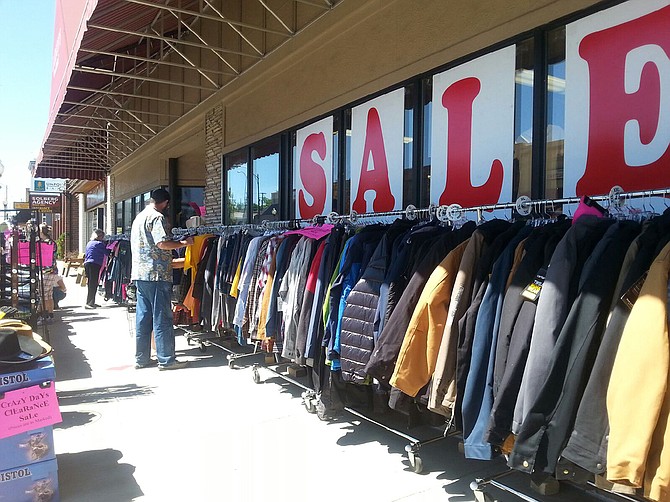 Photo by Lorie Palmer
 2013 Montana Rodeo Queen Alyson Hanson, who now lives in Grangeville, helped put on the Queening Clinic at the Grangeville Border Days Arena Aug. 1. Here, she demonstrates the queen wave and buzz.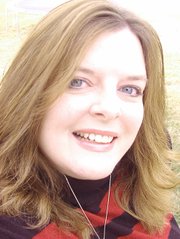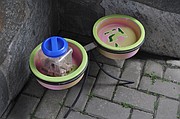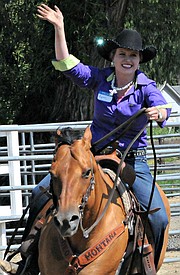 Look for your 2015-16 River-to-River Phone Book in this week's Shopper. These are published by the Idaho County Free Press and Shopper and if you need extra copies for your home or office, stop by and pick some up!
•
Member Appreciation Day at Pine Tree Community Credit Union in Grangeville and Riggins is set for 11 a.m. to 2 p.m. Friday, Aug. 7.
Hot dogs, chips, soda and cake will be served and everyone who attends will receive a free gift. Also, enter for a chance to win a $50 Visa gift card.
•
Grangeville Builders Supply invites the public to its annual barbecue, also this Friday, Aug. 7, 11 a.m. to 1 p.m., 703 WS 1st Street.
•
Do you know that according to the Urban Dictionary, a selenophile is a person who loves the moon and stars. I was thinking about this during the recent bright, blue moon (which also gives us an idea where the phrase "once in a blue moon," comes from).
•
I hope you got out and around town for Grangeville's Crazy Days last weekend. Hailey and I went to several stores including Baza'R Shoes where everything is an additional 50 percent off as it slowly sells out. Hailey got a pair of white Chuck Taylor low-top Converse and owner Tracy Bush looked at the date on them – 1998. So, Hailey has shoes older than she.
•
Thanks to Montana Rodeo Queen 2013 Alyson Hanson, former Lewiston Round-up and Border Days Queen Kami Fogleman and former Border Days Princess Christi Sonnen for putting on the Queening Clinic in Grangeville Saturday, Aug. 1. The 19 girls who attended learned a lot and got a lot of encouragement from the organizers. A big thanks, too, to the White Bird Rodeo volunteers, Rick and Micki Miller and the Bakers, for all their help!