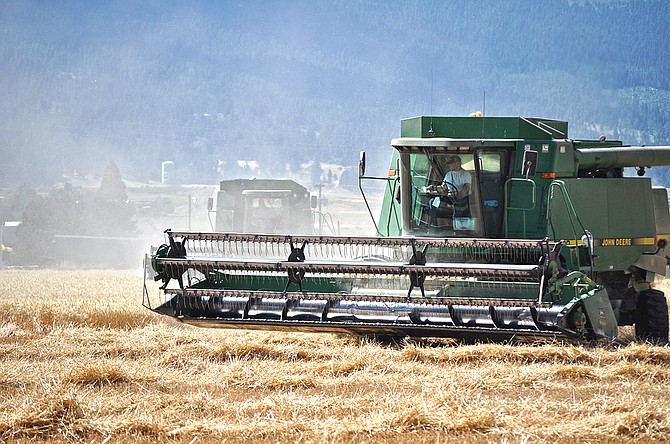 Photo by David Rauzi
Harvesting in a field off Day Road in Grangeville on July 23.
The Idaho County Commission declared a drought disaster at the Tuesday meeting, Aug. 4, and informed Gov. Butch Otter's office that local crop yields – including hay, barley, canola and wheat have been hit with heavy losses. The county board echoed a July 31 letter the Idaho County FSA office sent to USDA Secretary Tom Vilsack, in which local FSA director Julie Fowler noted "many fields are yielding well below 50 percent of normal."
Commissioner Mark Frei called it "the worst harvest in 27 years."
On July 30, Brian Lorentz of Columbia Grain told the USDA's Idaho County Emergency Board that the harvest is worse than 1992 with widespread trouble.
"Greencreek, Fairview and Big Butte west areas had a late frost and is coming in with 10 percent lower test weight than the rest of the county," according to the emergency board's minutes. "This is the worst area hit. Lawyer's Canyon area [was] also hit hard."
Lorentz noted near-drought conditions have been affecting the area for three years, but that "crops have been lucky…rainfall just happened to come at the right time. This year it didn't happen timely, if at all."
Idaho County Weed Supervisor Connie Blythe told the emergency board that "drought conditions over three years have given some weeds and undesirable grasses an advantage" and cattle producers are "suffering low feed….people are starting to sell cows."
Harvest came extraordinarily early, with the first load of wheat seen July 8 and harvest 90 percent complete by Aug. 1, Lorentz noted.
Fowler told the emergency board producers had informed her about a series of weather-related events and noted "considerably less moisture year to date than in years past."
Documents related to these meetings, including the county commission's letter to Gov. Otter, the county's agricultural disaster declaration resolution, Fowler's letter to Vilsack, and the emergency board's minutes, are online at idahocountyfreepress.com/documents.