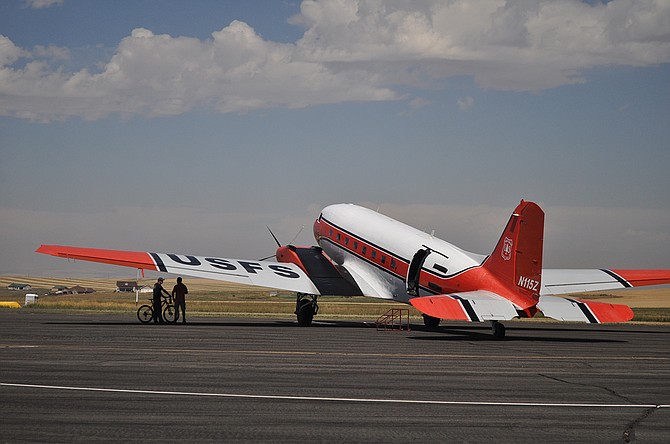 Photo by David Rauzi
The Forest Service brought in a DC-3 to use as a jump ship on fires sparked through the combined forests as a result of Monday's storm.
KAMIAH – A Type II incident management team is en route to state land near the Flying B Ranch approximately three miles west of Kamiah, where Aug. 10 lightning storms caused more than two dozen fires. Across the Nez Perce-Clearwater National Forests and in surrounding lands, roughly 100 fires have been confirmed.
"We were geared up, ready for it to happen," combined forests supervisor Cheryl Probert said. "We've been working with all the agencies to prioritize. Getting a lightning bust that results in a lot of fires all across different jurisdictions, is, from my understanding, pretty much the norm. The partners are really well-organized for the calls and dispatches…it's really a pretty well-oiled machine."
Battling the blazes in the Kamiah area is the top priority, Probert said, listing Syringa next and the Pilot Knob-Newsome Creek area third.
"Fourth, we have a group that'll be picking up any new stuff, that we'll have some flexibility with," Probert said. "Things are changing by the minute, and as we get out and see more of what's going on, and as the day heats up, we're likely to get additional fires that we find. As a caution for the public and anybody out there: there might be fires we don't know about, and there's going to be a lot of people out doing suppression activities."
At about 10:30 a.m. on Tuesday, Aug. 11, the Nez Perce Tribe issued an Air Quality Advisory due to wildfire smoke in the area. The Type II team, Bob Fry's Northern Rockies team, was expected to take command of the Lawyers Complex Fire in Lawyers Creek Canyon at 6 p.m. that night.
100 personnel are assigned to the Lawyers Complex Fire, which was reportedly 800 acres and zero percent contained at noon on Aug. 11.
The Forest Service is expecting to spot many, many more in coming days.
"We're expecting another 50 to 80 more," combined forests fire information officer Rae Brooks said. "We do have several threatening structures….The situation is really dynamic. We're still identifying them – we have people up in the air looking for more fires."
Lightning sparked more than 70 new fires on federal land managed by the Nez Perce-Clearwater National Forests during a 24-hour period beginning with a fast-moving storm Monday that swept through the Salmon River canyon, topped over near Grangeville and hit the Kamiah area especially hard.
Fire managers are busy staffing the new fires, identifying additional starts, and planning for numerous new fires forecasters expect from more thunderstorms this week.
An additional 25 starts are burning on state and private land. Fire managers from all land-management agencies are working together to ensure the protection of life, property and structures.
During the storm, more than 2,500 lightning strikes hit the area.
Temperatures are expected to be well above normal during the next few days, with scattered thunderstorms today and Wednesday. Gusty winds remain a concern. With the chance of wetting rains at 10 percent and humidity predicted in the 20 percent range, new starts are likely.
By district, the Forest Service reported the following in the wake of the Aug. 10 storm: the Lochsa Ranger District had 25 new fires, including at least five in the Selway-Bitterroot Wilderness; the Salmon River Ranger District had 25 new fires in the Pilot Knob area, including two under the Pilot Knob Lookout; the Red River Ranger District had 19 new fires in the Pilot Knob and upper Newsome Creek drainages, of which eight were staffed at press time; the Moose Creek Ranger District had five new fires, all staffed at press time; the North Fork Ranger District had three new fires early Monday, as well as holdovers from thunderstorms on Sunday night, of which all were staffed and expected to be completed Tuesday. The Palouse and Powell ranger districts reported no new fires.