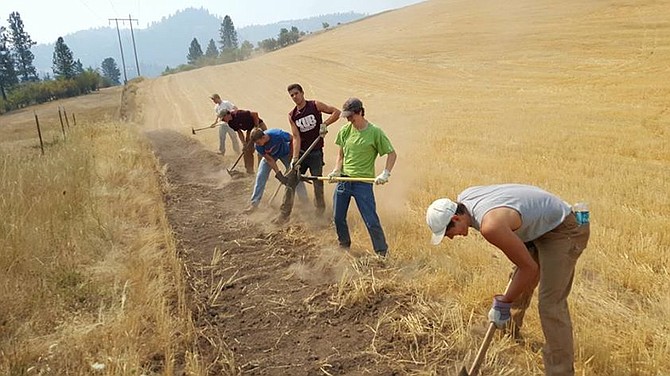 Contributed photo / Robert Millage
The Kamiah community was well represented by several Kubs who pitched in with an effort to put a fire break near a Crest Drive home on Thursday, Aug. 13.
Update (8:15 p.m., Friday, Aug. 13) -- Wildfires burning in the Syringa and Pilot Knob areas of the Nez Perce-Clearwater National Forests have been folded into the new Clearwater Complex under the direction of Greg Poncin's Type 1 Incident Management Team.
The Clearwater Complex includes dozens of the fires sparked by lightning since Monday, among them the Lawyer Fires near Kamiah, the Fisher Fire north of Craigmont and the Lolo Creek Fires southeast of Weippe. Two Type 2 teams will manage branches of the complex.
Lightning strikes were reported on the forest again this afternoon and evening, along with new starts.
An area closure for the Forest's Lochsa District went into effect this afternoon to include the Woodrat and Big Hill Fires near Syringa and the Fourbit Fires south of Mex Mountain, where a cluster of fires is growing into a single large fire.
At least 30 wildfires are still burning within the Lochsa closure, rendering the area unsafe for the public. Two Lochsa lookouts have been evacuated -- Pilot Knob yesterday and Walde this evening. Crews have covered the Pilot Knob tower with fire-resistant wrap.
Scouted from the air, the Fourbit Fires were judged to be between 200 and 300 acres. Woodrat has grown to at least 60 acres and firefighters have managed to hold Big Hill to 15 acres.
The Baldy Fire near Pilot Knob burned actively today. The Army Mule Fire, a new fire burning on all flanks in the Army Mule Saddle of the Moose Creek Ranger District, was sized at 52 acres.

Tomorrow, Friday, Aug. 14, will be a critical fire day. The National Weather Service has issued a Red Flag Warning for the Forest and surrounding areas from 11 a.m. to 11 p.m. for gusty winds, thunderstorms and low humidity. A Red Flag warning indicates that conditions are ideal for ignition and rapid spread of wildfires.
The forecast calls for scattered thunderstorms beginning in the morning, with more severe storms in the afternoon. Ridgetop winds could gust to 35 mph, while erratic outflow winds from the storms could reach 45 mph. The strongest winds are expected at mid-day as a cold front pushes into the area.

Fire managers ask rafters to leave areas where fire helicopters are dipping from rivers. The helicopters require space to operate safely. Your presence could be lengthening their turn-around times and hindering fire-suppression efforts.
Lawyer Complex grew to 2,500 acres, including 1,600 acres still showing significant heat, according to an infrared map made last night.
"It is not a fire perimeter map," the management team noted. "It only shows the current areas of heat. These hot areas total to approximately 1,600 acres. If we include the areas that are burned and no longer hot, the total acreage is closer to 2,500."
Update (7 a.m. Thursday): Late last night, the Red Cross announced it is opening a shelter for evacuees from the Lawyer Complex Fire. The shelter is located at the Clearwater Valley Elementary School at 306 Pine Avenue in Kooskia.
"Evacuees who plan to stay at the shelter should bring bedding, blankets, a change of clothes, medications, toys for children and anything else they need to be comfortable, if possible," Anna Fernández-Gevaert said. She is regional communications director for the American Red Cross of Idaho and Montana. "Red Cross volunteers are ready to welcome them at the shelter. Everyone affected by the Lawyer Complex Fire is welcome to stay at our shelter and all services are free. Only service animals are allowed in Red Cross shelters."
Update (7:15 a.m. Thursday): The Lawyer Complex team has reported no structures were lost last night.
Update (7:30 a.m. Thursday): U.S. 12 west of Kamiah is still reduced to one lane by fire burning approximately two miles west of town, between Greer Grade Road and No Kid Lane, per Idaho Transportation Department. A pilot car is operating there. State Highway 64 remains closed between Kamiah and Lyons Road, approximately three miles east of Nezperce. On State Highway 162, smoke from the Lawyers Complex fires continues to reduce visibility and drivers are advised to use "extreme caution."
Update (7:30 a.m. Thursday): The National Weather Service in Missoula is forecasting temperatures of 106 in Kamiah today, with a chance of thunderstorms again tonight. A "fire weather" watch will go into effect Friday morning, as NWS-Missoula is anticipating winds gusting up to 35 miles per hour along ridges across the Palouse-Hells Canyon-Nez Perce-Clearwater region.
Update (8 a.m. Thursday): "We got more fire resources in overnight," the Lawyer Complex management team reported this morning. "Many of these resources came in from out of the area and will be helping crews already on the incident. Our main objectives for today are to safely conduct direct attack on the fire line and protect structures. More boots on the ground and more equipment will be a great asset."
The team also noted no structures were lost overnight.
Update (9 a.m. Thursday): Due to wildfire smoke throughout the region, the Idaho Department of Environmental Quality (DEQ) is notifying residents of Latah, Nez Perce, Lewis, Clearwater, Idaho counties, river corridors and surrounding areas (off the Nez Perce Reservation) of degraded air quality. Air quality is currently in the moderate category and is forecast to unhealthy. The pollutant of concern is Fine Particulate Matter (PM2.5).
When air quality is unhealthy, everyone may begin to experience health effects. Members of sensitive groups may experience more serious effects and should avoid prolonged/heavy exertion & stay indoors. Everyone else should limit prolonged/heavy exertion & limit time outdoors.
All outdoor open burning is prohibited by the Department of Environmental Quality Rules for the Control of Air Pollution in Idaho.
Update (9:15 a.m. Thursday): Idaho County is requesting help from Gov. Otter's office, in the form of a fire disaster declaration.
Update (9:45 a.m. Thursday): With resources already stretched, firefighters picked up another 27 new wildfires Wednesday on the Nez Perce-Clearwater National Forests.
Lightning has sparked more than 150 fires on Forest lands since a series of storms began rolling through the area on Monday afternoon.
A Type 2 Incident Management Team has been assigned to the 700-acre Fisher Fire, which started yesterday seven miles north of Craigmont in the upper reaches of Big Canyon Creek. The team will receive an in-briefing at 5 p.m. today in Craigmont and take command of the fire tomorrow morning. An interagency task force, assembled last week to provide initial attack in the area, worked on the Fisher Fire yesterday.
Hot, dry conditions with gusty winds from isolated thunderstorms will test firefighters again today, although smoke will prevent temperatures from reaching record highs.
Tomorrow will be a critical fire day. The National Weather Service has issued a Fire Weather Watch for tomorrow morning through tomorrow evening for gusty winds and low humidities.
Erratic winds from thunderstorms could reach 45 mph.
Two fires in the Syringa area were active yesterday. Woodrat, now 30 acres, is backing down to the 5504 Road, and is threatening the Woodrat repeater station. The Big Hill Fire burned actively on all flanks, and onto the 5515 Road. It has grown to 15 acres.
To help the firefighting effort, boaters and rafters are asked to leave areas where fire helicopters are dipping from rivers. The helicopters require space to operate safely. Your presence could be lengthening their turn-around times and hindering fire-suppression work.
Owners of Unmanned Aircraft Systems, or drones, are reminded that drones are not permitted to fly in areas with Temporary Flight Restrictions in place, including around wildfires. The Federal Aviation Administration lists current restrictions at http://tfr.faa.gov/tfr2/list.html.
Update (10 a.m. Thursday):
"Nothing has changed with the evacuations or road closures since last evening," the Lawyer Complex management team reports. "But as a recap, here are the details."
The following areas are in Mandatory Evacuations (Stage 3): Residents west of and serviced by State Highway 64 from milepost 30 to the end of the pavement.
A 3 mile corridor located immediately west of Hwy 162 for areas north of Thorn Springs Road and south of Lawyer Creek Road (Flying B Ranch Area).
The following areas are should be ready to go at a moment's notice (Stage 2): Residents east of and serviced by Hwy 64 from milepost 30 to the end of the pavement. A half mile wide corridor located immediately east of Hwy 162 for areas North of Thorn Springs Road and Lawyer Creek Road. Residents on and serviced by Woodland Grade Road from the river to Hog's Back.
Road Closures:
Highway 64 for approximately 4 miles west of Kamiah City Limits to the end of the pavement is closed except to local traffic.
Update (10:15 a.m. Thursday): An air quality advisory will remain in effect on the Nez Perce Reservation through 10 a.m. Friday. Air quality can be expected to reach the "Unhealthy" category for all areas of the Reservation today. Winds are forecast to be variable for the next 24 hours, so local air quality will improve and worsen as smoke moves in and out of communities. No burn permits will be approved. This restriction does not apply to fires set for cultural or traditional purposes.
Update (10:30 a.m. Thursday): The Baldy Fire in the Pilot Knob vicinity burned actively overnight and is now 100 acres in size.
Update (10:30 a.m. Thursday): The Lawyer Complex fires have grown to more than 3,700 acres, per Inciweb.
Update (10:45 a.m. Thursday): The Lawyer Complex consists of fires ranging from one-tenth of an acre to 700 acres and is being fought by eight crews, 13 engines and a helicopter, according to the management team and the National Interagency Coordination Center.
Update (11 a.m. Thursday): The National Multi-Agency Coordinating Group (NMAC) increased the National Fire Preparedness Level (PL) to its highest point, PL-5, effective at 5:30 a.m. MT. The PL ranges from one, indicating minimal activity, to five, which signals very high activity.
NMAC, which consists of top federal and state fire managers, sets the national PL. The raised preparedness level reflects a high degree of wildfire activity, a major commitment of fire resources, and the probability that severe conditions will continue for at least a few days.
"A significant amount of initial and extended attack and large fire activity has occurred over the past several days as a result of lightning storms that have intensified local and geographic response," NMAC chair Aitor Bidaburu said. "Given the continuing hot and dry weather and the increase in fire activity in the western U.S., the decision to move to Preparedness Level 5 depicts the complexity that fire managers are encountering to assure that adequate firefighting resources are available for protection of life, property and our nation's natural resources."
During periods of high wildfire activity, when assets are stretched thin, federal, tribal, state and local partners work together to prioritize wildfires so that those threatening life, property and valuable natural and cultural resources receive assets as quickly as possible. Professional wildfire managers adapt their strategies and tactics based on the assets that they receive and do the very best they can to suppress unwanted wildfires effectively and efficiently.
Wildfire activity has escalated in recent days after thunderstorms, many with little or no moisture, moved across parts of California, Oregon, Washington, Idaho and Montana, sparking hundreds of new fires. To date, 39,254 wildfires have burned nearly 6.4 million acres in the United States this year. The number of wildfires in 2015 represents about 80 percent of the ten-year average. However, the number of current acres burned represents about a 38 percent increase over the ten-year average at this point in the year.
The last time that the National Preparedness Level was raised to 5 was on August 20, 2013. The National Preparedness Level remained at 5 for 7 days until it was dropped to 4 on August 26, 2013. This is the fifth time that PL-5 has been reached in the last ten years.
During PL-5, further assistance from the military, beyond what is already in use, and international resources may be considered and requested, but no decisions have been made concerning those steps.
The fire forecast for most of the West predicts above normal temperatures, below normal precipitation, and continuing drought in many areas into the fall.
Update (11:15 a.m. Thursday): A pilot car is in operation, and look out for flaggers on State Highway 162 near Fort Misery Road and Delaware Street (three miles west of the Kamiah area). Idaho Transportation Department advises motorists to expect delays due to fire in the area.
Update (11:30 a.m. Thursday): The Lawyer Complex incident management team will hold a public meeting for people effected by the fires tonight at 8 p.m. at the rodeo grounds in Kamiah.
Update (noon Thursday): While some of the reported growth of the Lawyer Complex fires is due to fire spread, incident management team public information officer Geremy Olsen said better mapping also contributes to the 3,700 acre size listed on Inciweb at approximately 10 a.m. this morning compared to the 2,000 acres reported last night.
Update (1:30 p.m. Thursday): A state disaster declaration was issued today for Idaho and Lewis counties allowing local governments dealing with wildfire the ability to access state and federal resources to assist them as their communities face a threat to lives and property. The lightning-caused Lawyer Complex fire, which started late Monday afternoon, involves more than 3,000 acres in north central Idaho and has led to evacuations and road closures near Kamiah.
"We are seeing some pretty extreme fire behavior which is why I want to ensure that local officials have whatever they need as they work to put the fire out and then transition to putting their communities back together," Gov. Butch Otter said.
Deteriorating weather conditions, with triple digit temperatures, high winds, and dry lightning conspired to produce well over one hundred fire starts around the state this week. The state's largest fire, the Soda Fire, grew over night to 200,000 acres and continues to burn along the Idaho/Oregon border threatening homes and destroying sage grouse habitat.
A disaster declaration allows local jurisdictions the ability to access federal and state resources for fighting the fire as well as funds to mitigate its effects.
The declaration was signed today by Senator Brent Hill, in his capacity as acting Governor, while Governor Otter and Lt. Governor Brad Little are both out of the state. The declaration is effective immediately.
"The First Lady and I want to thank all of our first responders and encourage Idahoans to heed their advice, if asked to evacuate."
Statewide up-to-date information, including fires, fire restrictions and prevention measures can be found at idahofireinfo.blogspot.com – a link to which is available on the IBHS website, www.bhs.idaho.gov.
Update (1:45 p.m. Thursday): Flying B Ranch lost half its horse pasture to the fire in Lawyer Creek Canyon yesterday, but has been able to defend its structures. "It's very impressive how much people come together to lend a hand," Karen Syron said, noting many members of the public and some who have previously come to the ranch to hunt have offered to help. Lawyer Creek Road remains closed to the public.
Update (4 p.m. Thursday): Working the Lawyer Complex fires are 13 engines, eight hand crews, two dozers, two water tenders, one skidgen and one helicopter.
Update (4:15 p.m. Thursday): Stage II evacuation notices are being given in relation to the Fisher Fire which had burned 1,375 acres near Reubens as of mid-afternoon Aug. 13, meaning residents need to be prepared to leave at a moment's notice. For information regarding the Fisher Fire evacuations, contact Lewis County Sheriff's Office at (208) 937-2447.
Update (4:30 p.m. Thursday): A large area closure is now in place on the Lochsa Ranger District. A written description of the closure is on the Nez Perce-Clearwater National Forests website, here. A map of the area is available at the same link, or at idahocountyfreepress.com/documents.