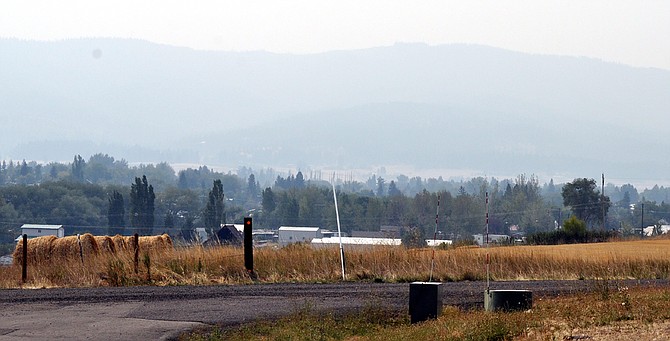 Photo by David Rauzi
Looking south into Grangeville from the Idaho County Airport is somewhat hazy today (Wednesday, Aug. 19) due to wildfire smoke covering the region.
Smoke impacts from wildfires have prompted the Idaho Department of Environmental Quality (DEQ) to issue a statewide air quality advisory.
This advisory is in effect through 2 p.m. Thursday, Aug. 20, at which time conditions will be evaluated again on a county by county basis. This advisory does not apply to lands within Indian reservation boundaries or to activities associated with fire suppression.
As of Wednesday, Aug. 19, DEQ is listing the Grangeville area in the "unhealthy for sensitive groups" category as PM2 levels were reported at 101.
Daily and real-time air quality reports for Grangeville are available online:
http://www.deq.idaho.gov/air-quality/monitoring/daily-reports-and-forecasts.aspx
"Air quality is in the Moderate to Unhealthy categories throughout most of the state and is forecast to remain that way for the next 24 to 36 hours," DEQ Smoke Management Program Coordinator Morrie Lewis said.
Under this advisory, all open burning is prohibited, including campfires, recreational fires, weed control burning, and residential burning.
Daily updates on air quality conditions at various locations in Idaho are available on DEQ's Air Quality Reports and Forecasts and Current Wildfire Smoke Information webpages. For areas where air quality monitors are not available, the Visibility Range and AQI Table can help determine the necessary precautions to take.
For information on the health effects of exposure to wildfire smoke, visit the Idaho Department of Health and Welfare's website: http://www.healthandwelfare.idaho.gov/Health/EnvironmentalHealth/WildfireSmoke/tabid/2172/Default.aspx