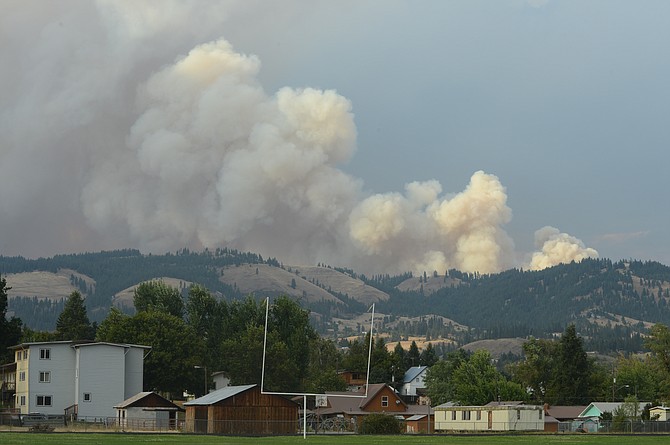 Photo by Andrew Ottoson
The air in Kamiah had been thick enough to threaten KHS football practice last Thursday, Aug. 13 , but the sky cleared, briefly, before the fire in Lolo Creek blew up. This towering column of smoke was seen rising northeast of town at 6:04 p.m., and it proved to be a bad omen of the firestorm that swept into the subdivisions closer to town when fierce winds changed direction the next day.
From outer space, above the thunder clouds that brought 2,500 lightning strikes to the area on Monday, Aug. 10, the story of the Clearwater Complex fires looks like one flash in a regional news storm: one emergency among others in the state, one among nine separate disasters FEMA has declared in Washington, Oregon and Idaho since that night.
The catastrophe breached inner space last Friday night, Aug. 14, striking deeply at the hearts and minds of people across Idaho, Lewis and Clearwater counties as shifting winds ripped through the canyons around Kamiah and brought fire nearly to the city itself.
The National Weather Service had issued a Red Flag Warning for 11 a.m. last Friday morning; at 10:20 a.m., FEMA, the Federal Emergency Management Agency, announced the nation would pay for 75 percent of Idaho's firefighting costs and described the fire "immediately threatening 650 homes in and around the community of Kamiah."
At press time, the threat to Kamiah appears to have peaked Friday night, but with fires burning and storms forecast, much firefighting remains to be done.
Several different incident management teams had been part of the command and logistics structure in charge of directing the firefighting last week, and at 1:37 p.m., the IMT then in charge announced the fire jumped Lawyer Creek. At 1:48 p.m. Friday, command announced mandatory evacuations for all in the area west of the Kamiah City Limits.
Lawyer Creek Canyon resident B.J. Walle was grocery shopping at the time.
"I ran into Mike Cox," Walle said. "He said 'You live up Seven Mile, right?' I said 'Yeah.' He said, 'They just closed the road.' I left, dodged the roadblock and made my way home."
His house survived. At least one outbuilding farther down the canyon was lost.
The winds shifted and grew strong as a weather front passed through, and that evening, fire also forced people to flee the areas north and east of Kamiah proper: to the north, Woodland and Frasure Grade; to the northeast, Adams Grade, Tom Taha and Glenwood; to the east, Beaverslide, and beyond Beaverslide, Kidder Ridge.
During the chaos last Friday night, 70-year-old Cheryl Lee Wissler of Adams Grade died, according to the Idaho County Sheriff's Office. She fell during the process of preparing to evacuate and sustained a head wound.
Idaho County Commissioner Skip Brandt, who has long volunteered with the Kooskia Rural Fire Department, was among the last to leave the area east of Kamiah by way of Kidder Ridge Road, which the fire jumped during the night. Fire blocked routes through Lolo Creek and the other places named, leaving Kidder Ridge Road as the only evacuating point. Brandt noted Grangeville Police Department chief Morgan Drew was in Kamiah to help the night of the crisis.
"I'm just very thankful for the local law enforcement – all the communities came together," Brandt said. "We were the only fire truck on that road keeping that evacuation route open….we're not out of the woods yet. If another wind event like that comes, who knows what it'll do?"
•
The prior Tuesday, Aug. 11, had been bad enough that Walle and his wife, Tissie, evacuated. She and their kids stayed elsewhere; he watched over the house.
Across the region, Wednesday was worse, as fires — two near Syringa, one at Lolo Creek between Weippe and Woodland, and one near Pilot Knob became more active. A Type II IMT was assigned to the Fisher Fire near Reubens, roughly seven miles north of Craigmont. On Thursday, Aug. 13, the air temperature in Kamiah topped 100 degrees, and a huge column of smoke erupted from Lolo Creek that evening.
That same day the national incident management system hit its limit, its highest level, Preparedness Level 5, which "reflects a high degree of wildfire activity, a major commitment of fire resources, and the probability that severe conditions will continue for at least a few days."
The entire nation has 16 Type I incident management teams. Two of those Type I teams have been committed to the area. Incident commander Michael Wilkins's Type I team was due to arrive in Orofino Tuesday, Aug. 18, in the wake of the loss of three houses among 11 structures there. In the absence of a Type I or Type II team, Clearwater County officials organized a makeshift management team while a Type III team fought the Municipal Fire, according to the Lewiston Tribune.
The Clearwater Complex is being overseen by incident commander Greg Poncin's Type I IMT, which arrived last Wednesday, Aug. 12.
"Our operations people, a lot of the time they'll arrive before the rest of the team does," Poncin team fire information officer Mike Cole said, Aug. 17. "They'll come with vehicles, so they have immediate access. They check in with the agency, whether it's local, county, state or federal, they'll check in, figure out what their frequencies are. From people who are on the fires, they'll figure out what their current knowledge is, what the intel is, where that fire is. A lot of time that's your local governments, rural firefighters, and in this case, a lot of ranchers, farmers and loggers."
On Sunday night, Aug. 16, Cole said: "If the local people hadn't have got going on this when it first started, it'd be a lot bigger than it is now. Farmers, ranchers and loggers, they've done a huge amount of work that if they hadn't have done it, we'd still have to be doing it, and the fire would have already gone past where they have some of those lines."
A prime example came out of the Nezperce-Craigmont-Reubens area last Friday, Aug. 14. On the morning of Wednesday, Aug. 12, Kristen Wright of Reubens said fire jumped out "right at where the fields meet the timber." A helicopter and an airplane worked it that morning, as did a group of farmers who rushed out to put in a disc line.
When the winds kicked up on Aug. 14, crews and farmers prevented major growth along the Fisher Fire's northern perimeter, as they were "able to catch and hold the fire, as it would break out of the canyon up into agricultural lands," command noted on fire information clearinghouse Inciweb, inciweb.nwcg.gov. That afternoon, when the wind shifted, the fire broke out from the southern edge of the canyon, sprinted through cultivated fields and jumped Highway 62 before "quick work by local landowners, with assistance from firefighters, successfully caught the fire…north of Powerline Road, east of New Hope Road, and west of Henderson Road," command noted on Inciweb.
As of Sunday, Aug. 16, Fisher Fire command's fire perimeter map tracked all along Big Canyon's northern edge. Where the perimeter bulged southeastward, it came within five miles of Nezperce.
•
The Nez Perce-Clearwater National Forests reported winning a skirmish last Friday, Aug. 14, against a fire at Sugarloaf, approximately four miles south of Harpster. Per Inciweb: "Smokejumpers and rappellers, with support from single-engine air tankers, managed to hold the fire to less than an acre." With the area too smoky to jump, the smokejumpers traveled to that fire by ground.
Current information about other fires in the area as well as up-to-date, official information on evacuations, area closures, fires and road work can be found online through the following websites: incident management at :
http://inciweb.nwcg.gov; Nez Perce-Clearwater National Forests notices and alerts at http://1.usa.gov/1TR8SGv; Idaho Fire Information at http://idahofireinfo.blogspot.com; and Idaho Department of Fish and Game's fire information center for hunters and anglers at https://fishandgame.idaho.gov/content/fire.
Reporting by the Idaho County Free Press can be found at idahocountyfreepress.com or facebook.com/idahocountyfreepress.