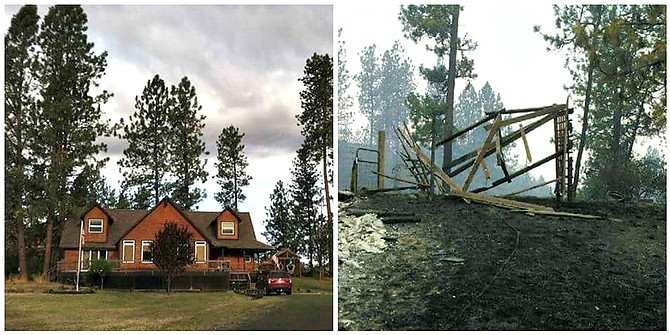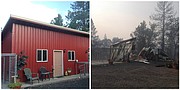 KAMIAH — There are many stories of destruction and loss during a tragedy such as the Clearwater Complex Fire. Here are two of the stories of Kamiah area couples whose lives changed in the matter of minutes Friday, Aug. 14.
'It happened so fast' – Yarbrough
BEAVERSLIDE – Eric and Erica Yarbrough had loaded some of their valuables – guns and coins – in their vehicles as they got notice of the fires moving across the hillside near their home.
"That was Tuesday. We went to a meeting Thursday and did not feel we were in immediate danger but that we should be thinking about what to do in the case of in emergency," Erica Yarbrough said.
Friday, the couple did not see their home on the level 2 evacuation list and decided to grab a bite to eat The Hub.
"It was really quiet in the restaurant and then we started hearing 'if you're on Beaverslide, you should be getting out,'" Yarbrough recalled.
In a panic because the animals were in the house, the Yarbroughs raced up Beaverslide close to 6 p.m.
"There were flames on either side of the roadway, our neighbor's house was burned and there were flames dancing across our yard," she shook her head. "It happened so fast."
They were able to remove their dogs, kitten (although Yarbrough does not remember the act of getting the kitten out of the house) and the goats.
"My husband put the goats in the Subaru and we got out," she said. "I was overwhelmed but was so glad to get the dogs – especially my two-year-old who is deaf and partially blind. He's my world."
They would later return to find the fire had burned down their home.
"We worked our butts off to make that happen – our home," she said. They had lived on their five acres for two years and were in the process of adding a garage, where her husband's motorcycle now lays in a melted heap.
The only thing left standing was a partially constructed goat shed. Those goats are now being rehomed, since the couple is unsure of where they will be in the near future.
"Right now we're with his family in Greencreek," she said. They have also rehomed one dog and the kitten, due to their unstable living arrangements.
Yarbrough said the one constant in all of this tragedy has been "the people in this community."
"People have been amazing," she said. "We're not used to being on the receiving end, but it's been amazing.
Eric just started a new job in Orofino and she works in Grangeville at Potlatch No. 1 Federal Credit Union. She was there Monday morning, greeting customers as usual.
"It's good to stay busy, though sometimes I am so emotional. I just cry when I think of how our house was," she said. "I know we will get through it. We'll be OK. But it's hard."
She said she knows they will rebuild when the timing is right.
"We will not let that fire drive us off our land," she emphasized.
'It was the perfect storm' -- Cloninger
ADAMS GRADE -- Sandy Cloninger and her husband Sam, were keeping a close eye on their home on Adams Grade last Friday night, Aug. 14.
"We had packed some keepsakes and knew we were on level 2 evacuation notice, but we never expected what happened to happen," she said.
Cloninger said Friday night made for the "perfect storm," when winds changed and suddenly the family had very little time to evacuate themselves, six dogs and four cats. There was barely time to open the gates for the four horses.
"We have lived there 27 years and even with some fire activity in the '90s, I had never seen anything like this," Cloninger said. "The sound the fire and winds made was like a freight train."
She said due to federal safety regulations, Forest Service personnel had been pulled off the fire surrounding their home and it was being fought by locals, including Jerry and Larry Knight and Chris Wilkins.
At about 5:45 p.m., the Cloningers literally ran off their property with their animals loaded up and hoped for the best.
"A friend on Beaverslide who lost their home called and said, 'I can see the flames coming over the hill, you need to go!' and Sam's brother, Jerry called and said, 'get out now!" Cloninger recalled.
Those personal possessions she had packed earlier? Forgotten. Left behind.
"In the end, the only things that really mattered were the people and the animals," she said.
They drove off the mountain and waited – for what seemed like an eternity – and through the smoke and haze decided to return and look at their property at about 1 a.m.
"I'm not saying it was smart," she said, "but the crews had been called off, so we were able to go up there."
What they found shocked them. Their old barn, greenhouse and kennel were burning and they saw a neighbor's house had burned. But in the dark and smoke they saw their house was, miraculously, standing.
"We saw later some of the vinyl had melted on one side, but it's pretty incredible it's still there," she said. "The patio, the roses blooming, the vegetable garden – all there, too."
And even more important?
"We expected to find the horses burned – we just didn't know how they could get out," she said.
But when she shined the truck lights out toward the newer barn and stalls, two horses were eating in the feeder and two more walked up. All were accounted for.
"I couldn't believe it," she said. "We are really blessed, I know."
The Cloningers own 51 acres and are still assessing the damage to their property, but since so much has burned already, they said they do have a small feeling of safety even though the fire activity is unsure.
"I so appreciate all the local people fighting these fires," she said. "And I think Avista and Idaho County Light and Power are doing an amazing job, too. They have been out day and night."
The Cloningers have the use of portable generators from family and feel "extremely fortunate."
"I feel like we have survived and it's a good feeling, even in the wake of so much disaster," she said.