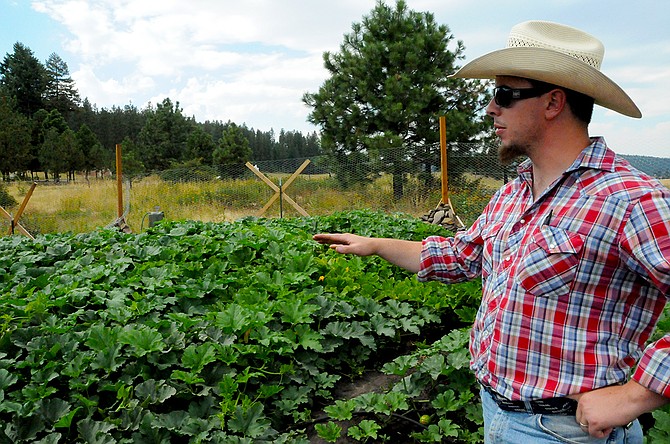 Photo by Lorie Palmer
Prairie Junior Senior High School agriculture teacher Don Curry shows the pumpkin patch planted by the FFA/agricultural class students at the school.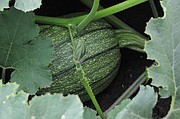 COTTONWOOD — Don Curry looked at a mound of rocks, dirt and weeds at the far end of Prairie Junior Senior High School and had a vision. At the beginning of summer, that vision became a reality.
Curry is the school's agricultural program teacher and the FFA (Future Farmers of America) advisor. He and his students in grades nine through 12 cleared a large area and spent hours – days and weeks, actually – picking rocks.
"Some of them were used to it from their own family's farms and ranches. For others it was a first-time experience," he smiled.
They built rock piles and rock pyres and had contests to see who could build the best rock pyramid.
"Anything to make it a little more fun," he said.
The ground was tilled and fertilized and then they began fulfilling the vision: planting a pumpkin patch.
The group planted between 80 and 90 pumpkins of various varieties with petunias on the outskirts of the rows to help draw in bees for pollination purposes, Curry explained.
From June on the patch has grown with only some minor stumbling blocks. The main one was deer.
"I just didn't think about a fence out here, but after they ate almost all our small, varigated decorative pumpkin plants, I figured it out," Curry said.
He put up a fence that now protects the patch and he, with the help of his wife, Melissa, have kept the garden area watered and fertilized all summer.
"When school starts back up, it will be a little easier on me," he said. "I'll pass it on to the students a little more and they will be able to be more involved."
The PHS job is Curry's first teaching experience out of college. He grew up in the Lenore area until his father got a job in Boise and his family moved.
"I attended Meridian High School and I had the great opportunity there to be very involved in the agriculture and FFA programs," he said. By the time he got to the University of Idaho he knew he wanted to be an agriculture educator.
His wife is from Montana, and the couple knew they wanted their future children to grow up in a rural area. Melissa is employed as a vet technician at Camas Veterinary Hospital with Dr. Phil Volkman.
"The first year teaching was the hardest for me because I was really just coming in a making a whole new program – Prairie had not had an agricultural program before," Curry said. "After that, it got a little easier each year and now as I go into my fourth year I feel like I'm in a really good place."
Each year Curry tries to add a few more projects for his students and his 25 FFA participants.
"The best thing about an agriculture program is that it's hands-on and I feel like that is really the best way to learn," he said. "There is also a lot of valuable information students can apply to life."
Curry said it's not just the kids who want to be farmers and ranchers who can benefit from the agriculture programs, but also kids who are interested in a wide variety of careers including education and leadership roles.
Curry said he is grateful for good mentors at PHS and around the area, especially since gardening has not been his forte.
"I am definitely enjoying it, but it's not something I have done before," he said of the pumpkin patch. "I think it's good to try new things and this is part of doing that."
It could be said Curry has a green thumb as the patch is actually flourishing and producing pumpkins of all shapes and sizes.
He hopes to use the patch for the community as well as some elementary agricultural education.
"We have had tremendous support from the whole community for this program," he said. "I am so appreciative of that help."
Curry said his goal is to continue to help students "learn by doing," as he grows the program and more students become involved.
The Prairie FFA is selling homemade jam to help with their program expenses. Those who wish to donate or ask questions can e-mail Curry at curry@sd242.org.