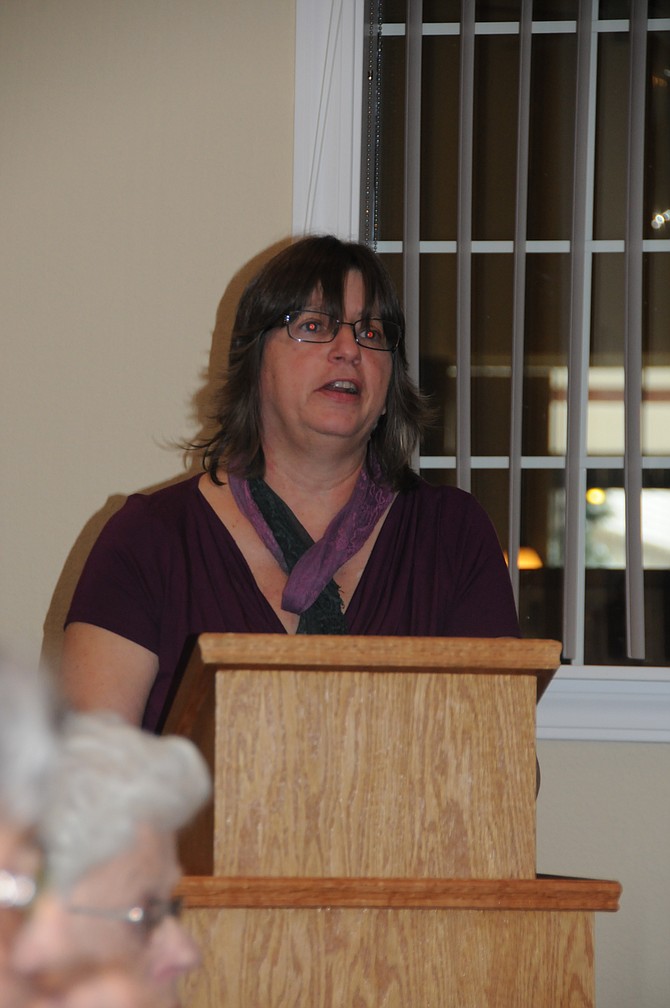 Photo by Lorie Palmer
Cynthia Onthank speaks at the November Encouragers meeting.
GRANGEVILLE — It was a seemingly "normal" spring day 10 years ago when Cynthia Onthank sat down for breakfast with her husband, Jim, before he left for his job with Idaho Transportation Department.
"God had given me the best husband. He was truly my best friend," Cynthia told about 30 attendees of the Encouragers meeting at Oscar's Nov. 19. "He was the love of my life."
That day, Cynthia's life changed forever. Later that day, an Idaho State Patrol officer and her pastor at the Grangeville Church of the Nazarene, Rick Jorgensen, who was an ISP chaplain, arrived at her door.
"Obviously I knew it wasn't good," she said. "Pastor Rick told me my husband was dead."
Tuesday, March 15, near Slate Creek, ITD employees James W. Onthank and Toby Joe Stevens, both 42, were killed when a southbound Grangeville Transit Mix cement truck struck their northbound dump truck head-on, causing the cement tumbler to break loose and crush the ITD vehicle cab. Stationed at the Grangeville maintenance facility, the pair was en route to fill potholes when the 9:12 a.m. crash occurred. The following month, after an investigation, the driver was cited for unsafe equipment, specifically for an overly worn left front tire which blew out and caused his vehicle to swerve into the oncoming ITD dump truck.
"That day, my life changed forever," Cynthia spoke tearfully. "My world literally fell apart."
Through the most difficult time of her life, she said, she learned to lean harder on God.
"I said, 'God, you have to get me through this. I cannot do it alone,'" she recalled.
Cynthia and Jim had two adult sons, Kurt and Cody, and she said she remembered thinking how her first grandson, just a year old, would never get to know "what a wonderful man his grandfather was."
She said she clung to God and her church family as well as her own family to take her through her bouts of sadness and anger.
"I was never angry with the driver or his family, but I was angry with the company," she said.
It was during this time God began to stretch her and remove her from her comfort zones, she said.
"He had started this when I worked for the Forest Service and with some of the traveling and assignments I went on," she said.
Her comfort zones were infringed on when a friend asked her to go on a mission trip to Nigeria.
"No," she automatically said. However, she felt a prompting from God and finally said yes to that trip – and subsequently ones to India and Argentina – that "changed my life."
"There is great healing in helping others and loving them," she said.
She has worked with women and children who are HIV positive as well as ones who are in prison and on the lowest rungs of social ladders.
"I learned that women all around the world have many of the same issues and the same hurts," she said. "I have learned to depend on God no matter the situation and to become much more comfortable in my own skin."
She said she has also learned about forgiveness.
"Forgiveness has to take place," she emphasized. "It's hard but I have chosen to forgive. God has forgiven me and I forgive, too."
The Encouragers will meet again Dec. 17, 11:30 a.m., at Oscar's Restaurant for a no-host lunch. All area women are invited to attend. This event will include a white elephant gift exchange.