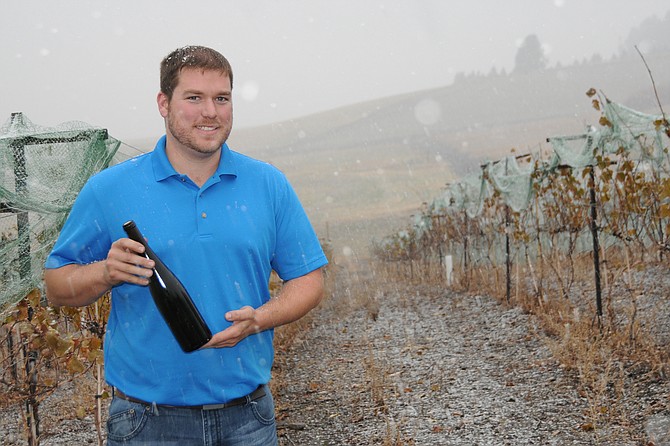 Photo by Lorie Palmer
Brent Uhlorn holds a bottle of wine made from this fall's Riesling grapes on a snowy November day.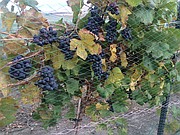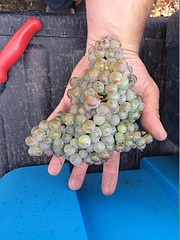 PIERCE ROAD — The Uhlorn family farm just outside of Cottonwood toward Fenn may have had a few sideways looks in the past few years.
Four years ago, Brent Ulhorn – a third generation farmer on the land – and his family set out on a journey that hadn't been tried before on the Camas Prairie: They planted grapes. Not just a few, but 1,400 plants on an acre of land.
"Some people might think we're crazy, I don't know," Brent smiled, shrugging.
"Mostly, I think people are simply interested," added Darrel Uhlorn, Brent's father.
Thirty years ago, Darrel would have never thought grapes would be a crop on his farmland.
"But look at the changes in the past 100 years," he said. "It's always good to try something new."
And it was with that attitude that Brent, a 2004 graduate of Prairie High School, entered his college education that led him on his current path.
"I waited a while after high school and worked before attending college, then went to Walla Walla Community College," he said.
There, he studied agriculture, biology and science, and viticulture.
"We had toured the school and I was very interested in viticulture and the wine making," Brent explained. "I really knew nothing when I first started."
From an outsider's standpoint, "nothing" isn't quite accurate as Brent was raised on the family farm and spent his life raising and harvesting wheat, barley, canola and bluegrass, but as far as grapes were concerned, his knowledge was very limited, he said.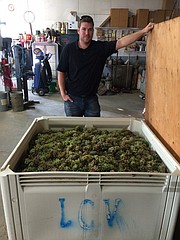 Brent studied what grapes might be able to survive on the Camas Prairie, how much land and where they might be able to grow, and completed two working internships at vineyards/wineries in the Walla Walla area where he worked hands-on with the entire grape process from growing and care to pruning and harvest, all the way through wine-making.
"I was fortunate to get a lot of great hands-on training as well as my school studies," Brent said. "I learned some valuable lessons."
That knowledge led Brent to study his family property and figure out if planting grapes there would be feasible.
"My dad had all the temperatures, first freezes and other weather-related items marked on calendars for probably the past 30 years," Brent said.
"My father did it for at least 20 years before that," Darrel added.
So, Brent sat down and figured out the average growing seasons including first frosts and made a lot of the grape plants he thought might do well at the farm. He came up with four varieties and added a fifth when he was given some plants.
The Uhlorns planted a row of Gewurztraminer, a row of cabernet sobrenome, two rows of noy chardonnay, five rows of Riesling and five rows of pinot noir. In all, 1,400 plants covering an acre, on a south-facing slip near the family home.
Brent chose varieties he felt could survive on dry land with no irrigation and in the area's climate.
"It took some time to train the plants to trellis, to climb," said Darrel, who helped with the planting and has been supportive of his son's endeavors.
The entire family – which includes Brent's mother, Mary, and sisters, Kylie and Holli – have helped with weeding and pruning, as has the family's hired help.
"We have learned a lot by trial and error for sure," Brent said. This includes placing bird netting over an entire acre after hundreds of birds found the high-sugar content grapes to be pretty tasty. They had to install an electric fence when the deer found the grape plants appetizing, as well.
"We also had some powdered mildew and one year a ton of bees that sucked all the juice out of the skins," Brent said. "We keep learning and adjusting. Hopefully we've ticked most of the things off the list that will deter us from getting a good crop."
So far, none of the plants has been lost, which the Uhlorns find "pretty amazing."
"We expected maybe to lose a few due to the climate, but we have been happily surprised," Brent said.
The past year has been one of the driest the family has seen, so the crops did not produce as they had hoped. However, they did pick about 500 pounds of Rieslings and had the chance to crush, ferment and bottle that into their own private wine stock.
Currently, they partnered with some other area wineries to use some of their equipment to help in the wine-making process. Eventually, Brent has plans to have his own facility.
"That might be a few years down the road – we would first like to see some return on our initial investment," he smiled. "It's kind of a long process that you have to be patient about."
Currently, the grape plants are starting to go dormant for the winter and will probably not be touched again until close to spring when they are pruned. The grape crop should be ready for picking around September.
"It is a lot of hard work, but it has been rewarding so far," Brent said.
"It is really exciting to see what's in store and what the future may hold," Darrel said.
In the meantime, the father-son team spend their time on their main job, farming, and said they know if the business grows they will have to have more hired help, especially May through October. In the past, they made a donation to Prairie High School when the track team came up and helped prune.
"We know we'd need more help than that if everything works out," they said. "We'll face that when the time comes."
For now, Brent and his family are enjoying the fruit of their labors. Literally. During the upcoming holidays, they will open their first bottle of wine from this year's crop.
"I'm looking forward to it," Brent smiled.