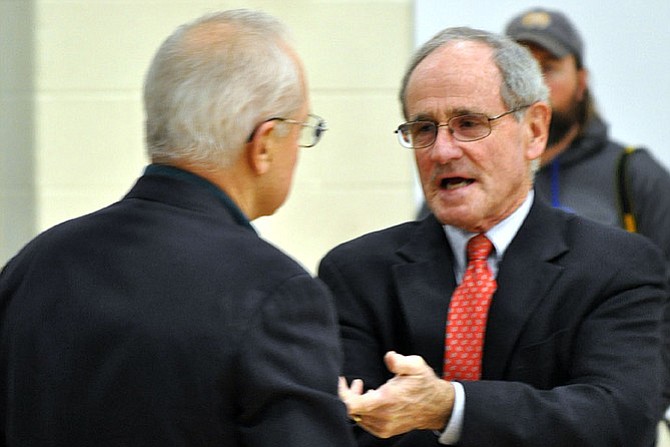 Photo by David Rauzi
Senator Jim Risch (right) talks with an unidentified man prior to the Nov. 24 public meeting on the Lochsa land exchange.
WASHINGTON, D.C. — Two years ago, three members of Congress signed off on a letter asking the Forest Service to put its Upper Lochsa Land Exchange plans on hold, marking the end of the years-long administrative process by which the federal agency was working to consummate a deal to consolidate public ownership of northeastern Idaho County. The congressional letter meant that the deal was dead as it stood at the time. In an uproar, people who use public lands outside of Grangeville and Harpster insisted that their right to access those lands should not be abridged, leaving the Forest Service – which has no legal authority to extend public access rights onto the parcels that stood to become private land – without a clear path. But the congressional letter also pointed to the possibility of a rebirth, the possibility that the trade could someday be embodied in an act of Congress.
One year ago, Western Pacific Timber – the private party to the deal – circulated a plan for just such an act, in which the company – based on a draft of the Forest Service's plans – identified land in the Grangeville, Harpster and Elk City areas it believes would be fit for a trade. WPT's proposal includes provisions to preserve access and to limit subdivision and development of most of the land it would acquire – if the proposal were law.
That's a big "if" in light of a public hearing late last month.
Comments due Dec. 11; how to comment
Risch's office is accepting written comments through Dec. 11. Comments can be sent by mail to 313 D Street, Suite 106, Lewiston, ID 83501, or to 350 9th Street, Suite 302, Boise, ID 83702. Risch's office has stated a preference for email comments, which can be sent to grangeville@risch.senate.gov.
In November, Sen. Jim Risch came to Grangeville to hear for himself what local people have to say.
Risch's role on the Senate's Energy and Natural Resources Committee puts him in a leadership position on whether and how a land trade will be done. While the major disagreements have been hashed over repeatedly, Risch said he was "a little surprised" about one point he heard. "People got up and said 'I thought this thing was over, I thought this was dead," Risch said via telephone last Wednesday, Dec. 1.
While opposition to the trade has long centered on the lands that the public would have to give up in order to acquire the Lochsa lands, the motivation for a trade centers on the Upper Lochsa. That's because the current ownership pattern – held over from a 19th Century land grant that was intended to speed construction of railroads across the continent – hinders management of more than 100 square miles of federal and private ground near the Montana state line. Western Pacific Timber has every other square mile, with the Forest Service running the alternating in-betweens. WPT's portion totals about 40,000 acres, or about 62 square miles.
"As long as that checkerboard exists, whether it be for 10 years, 25 years, 50 years, a hundred years, there's going to be pressure from the landowners on both sides – the government on one side and whoever owns the land on the other side – to try to block it up as opposed to having the checkerboard pattern," Risch said. "That's not to say that the current proposal [WPT's proposal] needs to be done…if the current proposal isn't right, it shouldn't be done. On the other hand, if this proposal isn't right, this is not simply going to go away."
Risch laid out his assessment of the situation – "a Rubik's Cube of a problem" – as follows:
"The county commissioners are absolutely right in protecting their tax base," he said. "They do not want to see a trade of this land or for that matter a purchase of this land by the federal government that would erode their tax base. What I mean by that is, first of all, if the government purchased it through the Land and Water Conservation Fund or something else, it goes off the tax rolls. That would be a heavy lift, anyway, for some government entity or NGO purchasing it. That would be a heavy lift, but it would come off the tax base and that greatly concerns the county commissioners, and it should."
"Having said that, the most likely resolution is the Forest Service trading pieces to the current land owner," Risch continued. "However, they have really scoured Idaho County for an appropriate swap. It would be easier for the Forest Service to swap lands located somewhere other than Idaho County, just because of the geography. So it's difficult in that regard."
"You have everybody with different interests," he explained. "You have the local people wanting to keep the status quo so they can use the property that's Forest Service ground. You've got the Forest Service that would like to trade something, but can't really find an appropriate piece in Idaho County. And you've got the landowner that wants to trade – but the land that's being offered doesn't meet the local people's approval. You've got some real irreconcilable differences on what's being attempted here."
Risch said it's natural for everyone involved to bring this problem to him – and natural for him to try to address it, given his Senate role.
"I didn't have to hold that hearing the other night," he said. "I chose to do it, because I truly wanted to do it right there, with the people who are interested in it. It was a good experience, by the way. I'm glad I held the hearing. I came away with a better understanding of the challenges that are on the table here. With rare exception, people were very polite…and with rare exception people were respectful of other people's point of view."
Risch also got this out of the hearing, he said: while WPT is attempting to convince people that they will be good neighbors and allow for use of the lands, people "are not trustful that these easements would be any good…people are distrustful and that's the nature of things today. They're distrustful of government, and they're distrustful of these entities that own lands."
Risch's next steps are to "study a little more in-depth the notes that were taken at the hearing, and I also want to study in-depth the written materials that everybody has supplied," he said. "Then, based on that, I've got to decide to do something or not do something."