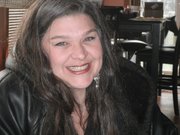 WHITE BIRD — A great big thank you to everyone who helped decorate the town. It's always nice to drive into town and see all the festive Christmas lights and decorations. Even for a scrooge like me.
I would like to thank everyone who helped make the mobile food bank possible. Dot McCulley went on and on to me about what a great addition it is to our town and how so many people are appreciative of it. It really is a good thing, so from me and Dot, thanks. Also, if you would like to help out get ahold of me anytime. Last week when the truck showed up there was only me, Shandra Chandler and Matt Prewitt. I was sweating bullets, thinking that we would have to do it all by ourselves and then volunteers just showed up, one after another. Thank you, God! It's a lot of work and it takes a lot of hands.
Don't forget about the transit bus that can take you to Grangeville every Wednesday. It comes from Riggins and arrives in White Bird at 9 a.m., at the city park downtown. It will take you to Grangeville so that you can run your weekly errands. You have time to plan ahead and make your doctor, dentist or whatever appointment for Wednesdays. For information or to reserve a seat 48 hours in advance call 628-2394.
For all those like me, who are "if it wasn't for the last minute, nothing would get done" kind of people, both Canyon House and White Bird Antiques will be having a last minute Christmas sale on Dec. 19. There are all kinds of treasures to be found in your local gift stores, so come see what you can find for your family and loved ones at last minute, discount prices. And, as always, thank you for shopping locally. Both businesses are very grateful for your support.
Sign up for Christmas parade
WHITE BIRD — The Christmas parade, community dance and talent show are coming up Dec. 19. First, the parade will start at 6:30 p.m. and lineup is at 6 p.m. If you want to be in the parade, get a hold of Carrie Marek at 507-2120. There will be chili, cornbread and hot cocoa by the bonfire in the city park, thanks to your White Bird Chamber. Right after the parade, we will all head up to the IOOF Hall for a talent show and dance. If you would like to be in the talent show get ahold of Barbara Lowe at 839-2444. Be creative. Read us a poem, sing us a song or scratch out Silent Night on your fiddle. All ideas welcome. After the talent show we'll dance into the night to music from Joaquin and Verna Lowe and Dave Dixon.
The next community breakfast potluck at the school will be Dec. 27 at 7:30-9:30 a.m. Donations will be accepted. All money will go directly into the Parks and Recreation Fund, for much needed maintenance on the building. For those who can't bring a dish, you are still more than welcome to come and share a meal with your neighbors, but a donation would really be appreciated. The first potluck was a great success and it's only going to get better and better, so join us, the last Sunday of every month.
Jan. 8 will be the first Friday night game night at the school. It will be from 6-9 p.m. There will be all kinds of card and board games for the whole family. Water will be provided, but feel free to bring your own snacks or some to share. Be looking forward to a fun community gathering.
Happy birthday this week to: Michael Davis, Connie Parsons (who is pregnant with her first child! Yeah!), Jerry Brown, Maureen Randall, Gum Gary Wright, Loen Brumley, Nancy Marek, Juanella Cash, Doug Plagmann and my dear friend, Tom Schwartz, aka Clyde, who will be celebrating his 29th birthday. Ok, well maybe I'm a little dyslexic with my numbers. Happy birthday, Tom! Thank you for all your service to this country, your great stories, and the dances and for blessing us with your presence for damn near a century now!