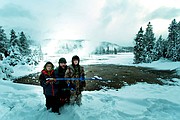 KAMIAH — Many think of Christmastime as an occasion to go home. Whether it be traveling to a childhood home or having one's own kids home for the holidays, Christmas is often associated with a homecoming.
For Kamiah's Robert Millage, Christmas 2014 was an opportunity to take his children away from home during Christmas vacation.
Millage, along with William, 11, and Quentin, 9, packed up the truck and started their week-plus trip to Yellowstone.
"All of our family parties were being held early so we didn't have anything much we'd miss by being gone on a trip," Millage explained. "I enjoy doing wildlife photography in the winter in Yellowstone so it seemed like a fun idea for something different."
The family stayed in a hotel, and since it was off season, Millage said, "It was pretty cheap."
"I think we did the whole trip for around $1,000, which is pretty cheap for that long of a trip and everything we did," he said. "Thankfully gas prices were pretty cheap and we eat a lot of stuff from the ice chest versus eating out for every meal."
On Christmas Eve day, the Millage men went on a hike, using a speaker and the iPod to play Christmas music as they trekked along,
"It was a beautiful day, lightly snowing to set the Christmas mood," Millage recalled.
On Christmas Eve they attended candlelight Mass at the Chapel at Mammoth in the park, a 100-year-old church built as part of the old fort.
"Driving into the park at night in a snowstorm and attending a candlelight Mass in an old church made of stone and timbers was an amazing experience," stated Millage. "We made nachos in the hotel microwave for dinner since everything in town was closed for dinner."
On Christmas Day, they booked and went on a snow coach ride to Norris Geyser basin.
"It was awe-inspiring to walk amongst the geysers shooting boiling water into the frozen air. Walking through the steam and the terrain covered in frozen vapor made for a surreal environment and a display of some of nature's greatest wonders," he said. "The snow coach trip was also a great experience for the boys since we shared it with a family from China, who had a little boy who had never played in the snow before. So even though they spoke different languages, the boys played with him and taught him how to have a good old-fashioned snowball fight. We ended the day by swimming in the hotel heated pool, had it all to ourselves, and it was a nice way to warm up after a day in the snow and cold."
Millage said he likes to keep his boys active, along with passing on family traditions such as hunting and fishing.
"I believe they learn a lot by going on trips like this, seeing the world with their own eyes versus just reading about it," he added. "It was a lot of fun — cold weather, but beautiful scenery and lots of wildlife for us to photograph and view. We had several amazing encounters with bighorn sheep, elk, coyotes, and wolves."
He said giving children life experiences for gifts is, "way more important than anything that can be bought in a store, in my opinion."
The wildlife encounters were some of Millage's favorite memories of the trip, but he is sure his sons' was the snow coach ride into Norris Geyser Basin, along with swimming in the indoor pool and then dashing across the parking lot to their room in zero-degree weather.
A special visit for the boys was from their mom, who was living in North Dakota and drove over to visit for a couple of days.
The trio stayed in Gardiner, Mont., the North Entrance, which is one of Millage's favorite towns on the edge of Yellowstone.
"In the winter most of the tourists are gone and Gardiner reminds me of the small Idaho towns I'm from," he relayed. "It's laid back and slow-paced with wildlife walking down the streets and in people's yards. The only open roads in the park during the winter also go from Gardiner, to Mammoth, and then through the Lamar Valley to access Cooke City, Mont., on the North Eastern Entrance."
The Millages traveled a total of about 1,200 miles.
"I'm sure the boys will always remember their Christmas in Yellowstone, along with the other trips we've taken throughout the years," he emphasized.