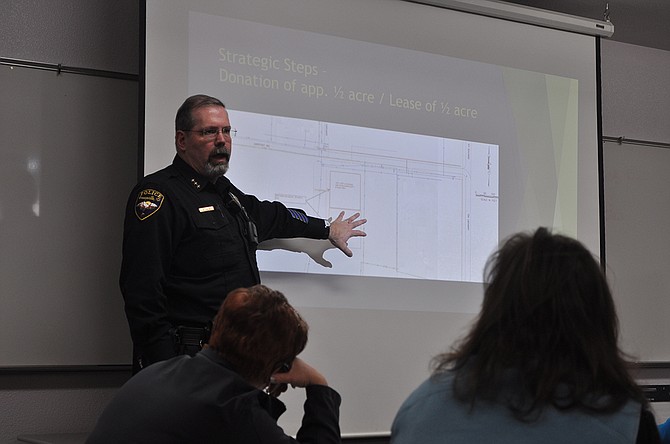 Photo by David Rauzi
Grangeville Police Chief Morgan Drew discusses the proposed ARF facility at last week's organizational meeting.
GRANGEVILLE — "This is something that is needed, not only for Grangeville but for the whole region," said committee member Sara Espeland, speaking last week to approximately 23 people who attended an Animal Rescue Foundation (ARF) organizational and informational meeting.
The Dec. 9 meeting pulled together community members as well as city representatives from the council and police department, focused on moving forward the goal of establishing a permanent facility to house, care, spay/neuter, and rehome abandoned or abused animals. As part of Wednesday's presentation, attendees were encouraged to sign up for ARF's board of directors, as well as fill volunteer positions.
"Right now we think there is some great potential," Espeland said. "We just need some help."
With one acre of land secured — which sits adjacent to the wastewater treatment facility on Airport Road, provided by the City of Grangeville last month — this is a "show of community support," Espeland said, that serves as match for ARF to pursue grant funding to construct the estimated 3,000-square-foot facility. Meanwhile, the coming year will involve conducting a property survey, as well as engineering and architectural drawings.
ARF looks to be largely self-supporting from income raised through operations, contributions, events and fund-raisers; a component of the facility would be a building materials thrift shop and pet-related retail area. An on-site veterinarian is being proposed to partner with ARF for animal care services in exchange for rent. City and county officials have been contacted about the shelter with several showing interest in a partnership with ARF, contributing funds toward supporting operations.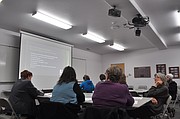 "Are you looking at a no-kill shelter?" one woman attendee asked. ARF volunteer and Grangeville City Councilor Shelley Dumas said yes but with exceptions for emergency animal cases, severely injured for example. Parameters for putting an animal down would be set by the board, which would be also involved in determination.
Another attendee suggested the facility also offer a boarding kennel: "There's a horrible need for this in our community," she said, and would be another way to raise funds for the facility.
Estimates are around $900,000 to create the facility that would employ a shelter manager and thrift shop supervisor. Current services by nonprofit organization Animal Ark, which has been handling abandoned dogs and cats for 27 years, will be integrated into this regional shelter.
"We're going to do this," Dumas said. "Just realize, it will take a lot of work."