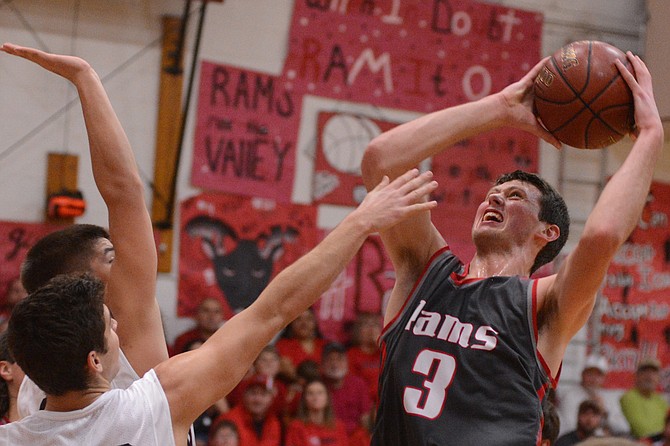 Photo by Andrew Ottoson
Clearwater Valley's Grant Wallace buried Kamiah during the second half, tallying 11 of his 17 points after intermission last Friday night, Dec. 11, at the Upriver Rampage. Wallace is pictured shooting over Kamiah's Chris Pethtel and Kaleb Oatman.
KAMIAH — Clearwater Valley's Trey Pfefferkorn handled Kamiah's heavy pressure well enough to be the difference in the boys game Friday night at the Upriver Rampage — a 59-54 Rams win over the host Kubs.
"It was our first close game this season," CV coach Aaron Skinner said. "The game ball goes to Trey. He pretty well took care of the press single-handedly a lot of the time. Our entire team figured it out. We knew it was coming."
Christmas came early for the Rams, in the form of transfer tower Grant Wallace, who stands 6-7 yet occasionally handles the ball like a guard — but Kamiah kept him in check through the first half.
The Kubs drew a block/charge call against the lanky senior, and held a 16-all tie after the first quarter. KHS stepped in front of him again late in the second quarter, and again got the call. But with six seconds left in the quarter, Pfefferkorn drew the second foul of KHS guard Garrison Bretz's night, and sank both ends of a one-and-one to give CV a 27-24 halftime lead.
Wallace kicked in 11 of his 17 points after the intermission, and the Rams lead grew to 11, 40-29, when Wallace hooped a short shot off a spin move in the deep post during the final seconds of the third quarter.
But Kamiah's press fueled a surge during the fourth quarter, and a triple by Chris Pethtel cut CV's lead to two, 56-54, during the final seconds.
The Rams broke the press for an insurance layup, but doubt about the outcome persisted until Pethtel's deep trey rimmed in-and-out. The Kubs hacked Pfefferkorn with 2.8 seconds left, and he sank a free throw for his 11th point of the night.
"I harp on free throws," Skinner said. "They'll win or lose games for you. Ryan [Ball, KHS coach] is a big believer in that, too. I got that from coaching under him for eight years."
Cody Morrow (10 points), Pfefferkorn (11) and Wallace (17) paced CV, with Wallace's big night matched by Pethtel's (17). Parker Whipple scored 15.
The win put CV atop the Whitepine League standings — until Genesee beat the Rams
49-36 the next day.