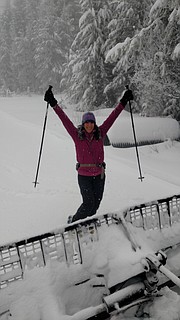 GRANGEVILLE — Snowhaven Ski and Tubing Area will open this Saturday, and has scheduled to continue through Jan. 3, manager Scott Wasem told the Free Press Monday, Dec. 14. "We got 20 inches last night and we're expecting three to four more today," Wasem said. "I've been up here grooming it. We have about 18 inches at the bottom of the hill, 25 on top."
It will mark a third consecutive White Christmas for the city-owned attraction, which had back-to-back mid-January openings earlier this decade, but has followed up with opening days of Dec. 22 in 2013 and Dec. 26 in 2014.
Snowhaven will be open 10 a.m. to 9 p.m. this Saturday, Dec. 19, with regular hours 10-4 p.m. Sunday through next Wednesday. Snowhaven will be open 10-2 p.m. that Thursday, closing early for Christmas Eve, and staying closed Christmas Day.
Snowhaven will be open 10-9 p.m. on Dec. 26 and 10-4 p.m. on Dec. 27, followed by regular hours through Jan. 3, with night hours on Jan. 2.