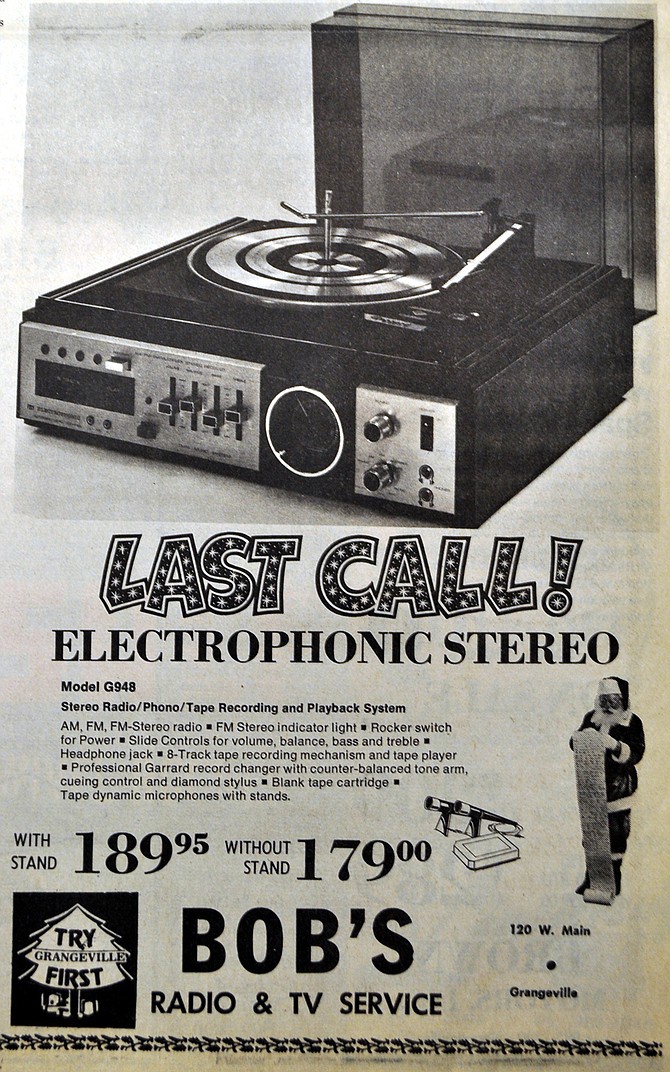 10 YEARS AGO DECEMBER 14, 2005
•COTTONWOOD – Melissa Sonnen along with partners, Ron and Debbie Schnider, will soon be opening "The Hangout," a fast food drive-in, in the small town of Cottonwood.
20 YEARS AGO DECEMBER 13, 1995
•The Grangeville Senior Citizens held a kids store event at the center in Grangeville on Saturday. Only children were allowed in to purchase gifts for their families. Members of the senior citizens then wrapped the gifts for the young shoppers free of charge.
30 YEARS AGO
DECEMBER 11, 1985
•Sunrise Lions have been busy selling native and cultured Christmas trees to earn money for community projects and to aid the sight and hearing impaired. Club members will have plenty of trees and wreaths for sale this Saturday at the former IGA parking lot on Main Street.
40 YEARS AGO DECEMBER 17, 1975
•Jaycees have started a chapter at the North Idaho Correctional Center, according to Jim Ries, Grangeville Jaycee club president. A total of 39 inmates signed up to be Jaycees. As far as Ries knows, this is only the second such club in Idaho.
50 YEARS AGO DECEMBER 16, 1965
•A show featuring top flight entertainers and a trip home for Christmas promises to make it a happy Yuletide season for members of the Cottonwood and Cedar Flats Job Corps centers.
60 YEARS AGO DECEMBER 15, 1955
•The Grangeville Ground Observer Corps took part in a general alert last week. The GOC administration wishes to express thanks to all the loyal observers during the busy preholiday time. Sky watching is essential at all times without exception, and the faithfulness of our observers in keeping their usual shifts keeps the tower manned with more efficiency and continuously as usual.
70 YEARS AGO DECEMBER 13, 1945
•Prevailing sickness – bad colds, flu, mumps and a case or two of scarlet fever – has had most activity at a standstill in Grangeville the past week. School was closed and basketball games and Christmas cantatas canceled.
80 YEARS AGO DEC. 12, 1935
•Everyday cooking miracles – the baking of a fruit cake isn't difficult any longer because the new automatic electric range with the miracle oven has removed all of the difficulty. The miracle oven has its own special unique way of baking fruit cake. The cake is placed in a cold unpreheated oven; then the trusty temperature control is set at the exact right baking temperature and the oven switch is turned to bake. The minute the baking starts, measured electric heat units are released into the ever-moist atmosphere of the perfectly insulated electric oven.
90 YEARS AGO DECEMBER 17, 1925
•Frank W. Gilbert has submitted a story of Idaho's North and South Highway. "No road in America can compete with Idaho's North and South Highway in scenic beauty."
100 YEARS AGO DECEMBER 16, 1915
•Forty percent of the enrollment of the local schools is absent due to an epidemic of la grippe. For this reason a two weeks' Christmas vacation was ordered by the board.
110 YEARS AGO DECEMBER 14, 1905
•The city council has received the estimates for the installing of a sewer system in Grangeville, which will cost $31,000. The plant on which the estimates are based is understood to have a capacity to serve 9,000 people.
120 YEARS AGO DECEMBER 13, 1895
•A new townsite has been located at the mouth of Big Canyon on the Clearwater, through which it is expected the Northern Pacific will enter the Cold Springs country.
•Indians were in town raiding the stores again this week. They purchased every harness set in Schmadeka's stock.