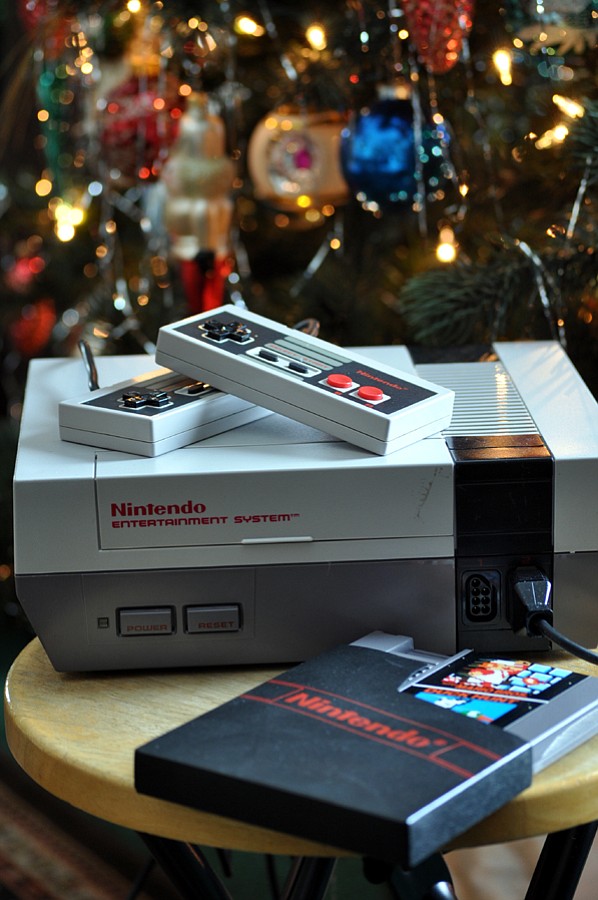 Photo by David Rauzi
Nintendo Entertainment System
Each year the Free Press "Letters to Santa" section is a popular insert in the newspaper. Letters are written by mostly third graders from Idaho County while pictures are drawn by fifth-grade students. This year's section will be in the Dec. 23 issue of the paper.
We decided to look back 30 years ago to 1985, and 15 years ago to 2000, to see what kids were asking Santa for at those times. Here's what we found out:
In the 1985 Letters to Santa Section, the most popular toy to ask for was My Little Pony at seven requests. Next were a bike, a Pound Puppy and a Cabbage Patch doll, tied at six asks each. Coming in next: BB gun, Transformers and Care Bears, requested by five different children. Three children asked for ice skates, another three requested Big Foot and two made a wish for a GI Joe.
Some letters included:
Dear Santa Claus
Can you give my Mom a tape cassette. Her name is Ellen you now I think. Can you my Dad a new stereo his name is Ray you know. And my brother wants a pond puppy. And I want a new pair of shoes. And my baby brother wants a new crib. And my little brother wants a big foot. Love, Amy Aiken (Now known as Amy Farris, employee of Grangeville Health and Rehab and Grangeville City Council member).
Dear Santa How are you and your reindeer? I hope their fine. How is Mrs. Claus? Is she baking cookies agin this year? This year I don't need any thing. I hope you have fun sliding down chimneys! Merry Christmas! Your friend, Melanie Graves (now known as Mrs. Martinez, a teacher at Clearwater Valley Elementary School in Kooskia).
Dear Santa, My cousin Shawn needs a Cabbage Patch kid. I will see you tonight. I will get a present for you tonight. Will you be at grange. Tonight? Love, Rebecca Warden (Rebecca is employed by Marcon Timber in Grangeville, is a trustee for Mountain View School District 244 and has a son at GHS).
•
Fifteen years later in the year 2000, the requests were quite a bit different with the bid for a scooter coming in tops from 11 children, followed by a remote control car and a puppy from 10 kids each. Six children requested a Nintendo 64 while five wanted Beanie Babies. Four kids each asked for a horse or pony, a laptop or a Barbie while three girls wanted American Girl dolls. At the bottom of the list with two asks each were a kitten, a television, Legos, a BB gun, a Christina Aguillera CD and a Walk Man.
Most popular toys: 1985-2015
1985: Cabbage Patch dolls, Transformers, Pillow People, Pogo balls. Skateboards, GI Joe, Atari, Teddy Ruxpin, Rainbow Brite, Pound Puppies and Care Bears.
2000: Scooters, Amazing Babies, Barbie, electronic dogs and cats, Harry Potter games and puzzle, HitClips, Legos, Bop It and Elmo.
2015: Fur Real Friends, Minion toys, Pie Face game, Disney's Frozen items, drones, Legos, Star Wars toys, Hot Wheels and Xbox One.
*Information gleaned from several Internet sources
Some letter from 2000 included the following:
Dear Santa Claus, I would like a new puppy and I would like a new puppy and I would like my grandpa to get over his arhterites so we can go on Moter bike rides. From, Jill Brouwer
Dear Santa, I've always wanted some rollerblades. My older sister has some but she barely ever lets me use them. Sincerely, Collin Urquhart
Dear Santa Clause, I want a Scooter. I want a T.V. with a green controller because My brother hogs it. Love, Megan Eimers
Dear Santa, I wish my bother Danny would get a snake and I wish my sisters would get a pece of coal each. Love, Presco Leighton
Dear Sata claus I want a Lava lamp for Christmas, because the goowe stuf insead. Linsey Sullivan
Dear Saunta Sorry if I spelled your name wrong….I would like Gerge Bush to come to my house. I would like a real pet tiger …. Shea Paulsen
Dear Santa, …Most of all please help my sister get over her sadness of her boy friend. He's moving to Seattle. My sister put down the picture's of them together. They broke up…. Your friend Sadie Gregg
Dear Santa, How are your reindeer? How are you doowing? I want a laptop. I want a dog. I want a cats. Love, Kaia McBride P.S. I am not in Montana anymore. I am in Kooskia, Idaho.
•
The Free Press wishes all its readers a Merry Christmas and Happy New year.