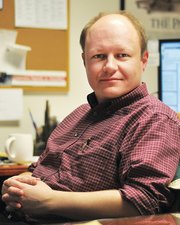 When highway district representatives, county commissioners and state elected officials came together Saturday for a meeting on a world without Secure Rural Schools (SRS) funds, two things came to mind.
First, the point was well-made that we've become overly dependent on these funds. Budgets and services hinge on this annual allocation, and we fret like meth addicts every year waiting for our appropriation "hit."
Second, this overdependence, coupled with the needs overall for regional and state infrastructure in road and bridge improvements, leads us to be seeking a more diversified portfolio of funding options. We need a broader range of funding sources that would better weather political ups and downs, provide more consistency and stability for budgeting, and being to return a measure of self-reliance to local governments.
And lastly (yes, this is three; journalists aren't exactly math whizzes, you know), the plea was made several times on the need to "tell our story." Folks in urban areas, and legislators in the highly populated regions east of the Mississippi where ratios of public lands are low in comparison to the West, need to understand their financial responsibility in this matter.
So, here's one option to try. Counties should keep a running tab on annual expenses and costs they incur for supporting these nontaxable federal lands within their jurisdictions. What's it cost to find all those lost hunters? To maintain a road that solely accesses national forest lands? To forego economic activity on natural resource production? Counties, highway districts and schools all have some skin in this game, and there's sure to be plenty of services they offer that support these public lands.
Tick, tick, tick: Add those hash marks up and print the invoice. Annually. As the SRS re-appropriation struggle may continue for some time, be presenting this bill to our legislators prior to the funding fight. They then, in turn, can be demonstrating to their peers – bill in hand stamped "due to Idaho County" — the true costs western states incur so that New Yorkers can feel good that deer and elk continue to scamper amongst the old growth.
What do we expect from this? At the very least, this puts our story – those of the highway districts, the county, our school districts; your voice — on the record. Maybe this helps down the road to achieving a better and permanent solution to compensating rural counties both blessed and burdened with public lands (such as Idaho County with 80-plus percent) within their jurisdictions.
It's a stunt, a political statement. And for the sake of moving this issue off the bubble, it's worth a try.