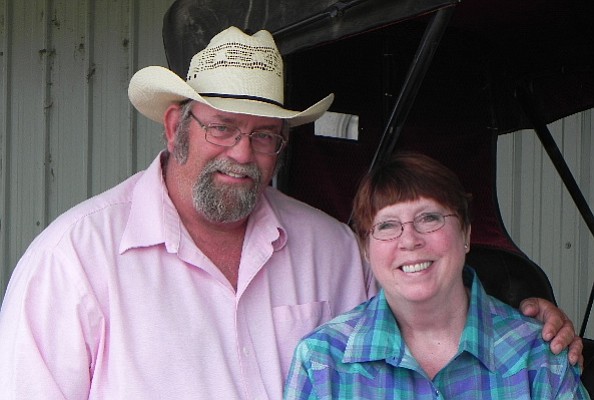 "Females are the foundation, but bulls are our business"
This motto of Camas Prairie Angus Ranch (CPAR), owned by Bob and Ruby Rylaarsdam of Grangeville is strongly adhered to as proven through the test of time:
"Our family has been in the cattle business for over 50 years both purebred and commercial," Rylaarsdam proudly acknowledged.
Their legacy began in 1920, when Bob's grandfather settled in Grangeville to farm and ranch.
In 1955, Bob's father, Marinus, purchased their first registered Angus cow. Then in the early 1970s he started cross-breeding.
"When I graduated from high school in 1976, I wanted to start with registered cattle once again," said Rylaarsdam.
"In February, 1977, we purchased two heifers at the Inland Empire Angus Association Sale in Spokane, Wash.," Rylaarsdam said. "We also purchased cows from Jaynbee Ranch at Bonners Ferry and heifers from Lettunich & Sons in November of that year."
The Rylaarsdams run Black Angus cattle on their Camas Prairie ranch. "We now have about 250 purebred mother cows and 60 commercial cows," said Rylaarsdam.
Angus cattle are a breed of cattle commonly used in beef production. Known as Aberdeen Angus in most parts of the world, this breed was developed from cattle native to the counties of Aberdeenshire and Angus in Scotland.
Angus cattle are naturally polled (do not have horns). These cattle can either be red or black hided. The USA recognizes two separate breeds – Red Angus and Black Angus, with Black Angus being the most common beef breed.
Having a good eye for cattle at a young age, Rylaarsdam won several judging contests during his 4-H years, including the top individual judge at the Portland's Pacific International Livestock Exposition in 1971.
Rylaarsdam and his sister, Marilyn, attended several State Association Junior Field Days, walking away with numerous championships after showing their top quality CPAR animals.
The tradition continues. "Our niece, Sydney, shows her cattle, many of which we have bred and raised. Sydney has shown in Reno, Nev. at the Western National Angus Show as well as all over the Northwest," said Rylaarsdam.
This business takes a huge commitment, good management, and a product that works well. "We travel to many shows and sales all over the northwest, Montana and the Denver Stock Show to search for and obtain those chosen genetics," Rylaarsdam said.
"We have also done quite a bit of embryo transfer from some of the top cows. We superovulate them and artificially inseminate them, then a week later collect and freeze the resulting embryos. Later the embryos are thawed and put in other cows called recipients. Those cows grow and raise the calves as their own. We propagate our best cows," said Rylaarsdam.
"The real satisfaction and reward," Rylaarsdam said, "is seeing the resulting calves from these matings and having them accepted by other breeders and cattlemen."
"It takes from making the breeding decision until bull sale day to get an animal ready," Rylaarsdam said, "It takes about three years from breeding decision to selling a Performance Plus bull."
"We look for low birth weight, fast-growing individuals that have a good disposition. The bulls must be sound on feet and legs and have carcass qualities such as high marbling and large ribeye," shared Rylaarsdam.
The Rylaarsdams will host their 29th annual Performance Plus Bull Sale on Feb. 12.
"I actually like showing each year's calf crop at our annual bull sale in Lewiston every second Thursday in February," Rylaarsdam said.
"We have always stressed the importance of top quality females. It takes top producing females to produce top producing bulls," said Rylaarsdam.
Shelley Neal is a resident of Lucile.