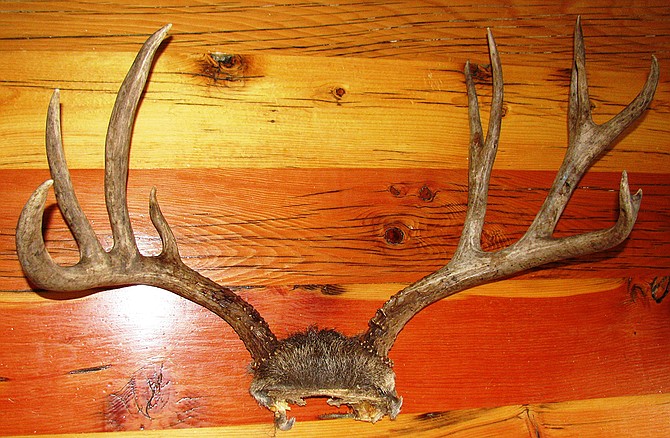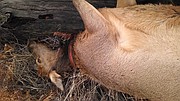 The first time officers of the Idaho Department of Fish and Game asked Terry Jones about his involvement with the Dec. 20 shooting of a research elk in Earthquake Basin, Jones (54, of Cottonwood) showed them an IDFG belt buckle — the same kind wardens wear with their uniforms.
According to court records, Jones "stated he was a past employee and would never poach an elk."
Jones and a family member, Brett "Bubba" Kuhn, were sentenced together for having slain and wasted a radio
collared cow elk with a flurry of rifle shots on the last day of archery season in Unit 15, which spans the South Fork Clearwater River drainage between Grangeville and Elk City.
A citizen reported hearing several shots at about 9 a.m. on Dec. 20.
By Dec. 22, three officers had turned up a variety of physical evidence, including a bullet pulled from the animal, which they later matched to the lands and grooves of Jones' rifle.
Based on footprints, officers cleared two Grangeville men who were antler hunting in the area on Dec. 21.
Kuhn later told investigators "it was grandpa's idea to bring a rifle," but court records state Kuhn and Jones both shot and killed the same elk. Kuhn also pled guilty to having attempted to take a deer earlier the same day.
Researchers had put nearly $3,500 into collaring the elk as part of the Clearwater Basin Collaborative's Wildlife Habitat Initiative, which is studying the potential restoration of the area's elk herd.
Per court records, "this cow elk was essential in the sense of keeping a large enough sample size of total collared elk to produce defensible scientific results."
Jones was sentenced to: 10 days in jail with 50 more suspended; more than $2,000 in fines, fees and restitution; 24 months probation; and loss of hunting privileges for eight years. Kuhn was sentenced to pay nearly $3,000 in addition to: 10 days in jail with 80 more suspended; 24 months probation; and 10 years without a hunting license.
• 
Bradley J. Miller, a Seattle-area resident, was sentenced Jan. 26 to pay Idaho nearly $6,400 for wasting game animals while hunting with an illegal license in circumstances typical of "party hunting."
Miller allegedly shot four elk all out of one herd and used tags provided by three others to try to disguise what he had done. Those three were charged with possession of game taken unlawfully and were warned on transfer of tags.
Each of the three had to pay more than $1,700, each lost hunting privileges for one yearand each is on probation for one year.
Miller was charged with four misdemeanors and four felonies,
With the agreement of local prosecutors, some of the charges were dismissed and others were amended in court, but Miller's guilt on two counts of unlawful taking of game was enough to cost him his license for nine years in addition to two years probation, a suspended jail sentence and the $6,357 hit to his pocketbook.
A search warrant executed by Washington authorities at Miller's house resulted in seizure of elk he had taken in 2014 and 2013 as well as a distinctive set of mule deer antlers.
• 
On the eve of the general hunting season last fall, Nolan B. Hildreth lost his appeal and the state court of appeals affirmed a judgment of conviction for a felony: unlawfully taking bears.
Hildreth had been charged with five counts of unlawfully taking wildlife and two counts of unlawful use of bait for taking big game animals. One of those counts was dismissed before the jury trial, but the jury found him guilty of a felony and three misdemeanors.
During the appeal, Hildreth argued there was "insufficient evidence to support the jury's guilty verdict" but the appellate judges upheld the jury's verdict.
Hildreth's 2013 conviction led to penalties in excess of $4,200.
• 
An inquiry into allegations that swirled in Grangeville late last year has been closed. No charges will be filed in the wake of IDFG's investigation of whether minors violated any law by allegedly circulating "Snapchat" video of the last moments of a game animal's life.
Following up on community members' complaints, IDFG 
investigated whether local youth violated animal abuse or trespass laws. IDFG sought evidence both locally and, by way of search warrants, from California-based Snapchat itself. But that's where the trail ends: IDFG has not been able to locate a copy of the alleged video, nor determine whether it showed any actual wrong-doing.