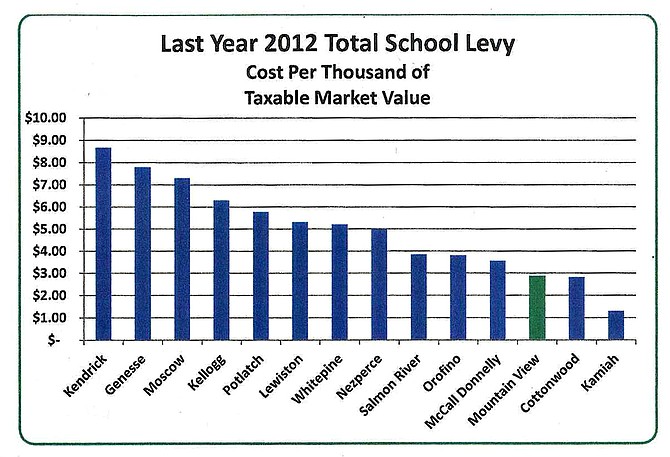 It's no secret the end of SRS (Secure Rural Schools) funds will have a large impact on rural schools, but just how dramatic this picture will be is déjà vu for Mountain View School District (MVSD) 244.
Loss of more than $1.2 million in annual forest fund receipts will leave a hole in the district budget in upcoming years.
"Without Secure Rural Schools, the forest funding will revert to the 25 percent logging revenue that the Forest Service pays to the counties for roads and schools. That could mean receiving less than $100,000 annually," said MVSD business manager Becky Hogg. "We've been through this before with the original loss in the 25 percent funds when logging activity was slashed, again in 2000 when the temporary Craig Wyden funding was not reauthorized, and again in 2007 with a one-year emergency extension of SRS. It's a moose standing squarely in the middle of the road ahead and we've been maneuvering to avoid hitting it each time the temporary funding expires. Our county schools need to secure a long term funding solution at the federal level."
District superintendent Kent Stokes has been working on gathering superintendent support from throughout the region to meet with legislators and discuss asking the Idaho Legislature to reauthorize the recently expired state stop gap funding that was put in place several years ago when the former version of SRS funding was not renewed.
The district said reserve forest funds have been managed efficiently and used annually for a variety of projects and to help offset the levy amount. With major repairs, upgrades and new buses added in, the forest reserve will be at zero by the 2017-18 school year.
Of the approximately $11 million MVSD 244 budget, only a small portion – about 10 percent – is discretionary, meaning it is not earmarked and mandated for a very specific use.
Stokes said though there is no doubt all rural school districts will suffer, not only due to the loss of SRS funds, but also due to inadequate state funding, MVSD will suffer the most.
"The reality is, we have the most non-taxable federal lands, so we will obviously take the biggest hit," he said.
MVSD will hold its supplemental levy March 10, keeping the amount the same as the past two years: $2,663,246.
"The board wanted to keep the levy amount the same level so the taxpayers know what to expect," Stokes explained.
He said the district has been reducing and spending wisely, "without going into full-out panic mode."
The focus this past school year has been on maintaining and improving current facilities using funds "as prudently as possible," Stokes said.
This includes resurfacing the parking lot at Clearwater Valley Junior Senior High School in Kooskia, adding some new sinks at Grangeville High School, replacing carpet at Grangeville Elementary Middle School, repairing fencing and roofs at the schools, as well as purchasing new books – some of which have not been replaced in more than 15 years. In addition, grounds have been cleaned up at all schools.
"Without the donation of labor and materials from our communities, these things would not have been completed," Stokes said. "We have amazing support and appreciate our patrons so much."
"Ultimately, I would like to see a change in the funding formula," he said.
If this doesn't happen, the future for MVSD could be grim, he added.
"If the Secure Rural Schools funding is not replaced, if the state's funding formula for rural schools does not change, or if we do not pass our supplemental levies, our programs will not look the same," he said. "We would not be able to maintain what we have right now."
Traditionally, MVSD has been in the lowest three districts regionally for cost per thousand of taxable market value (see graph).
"Our goal is to offer the best education to our kids as possible with what funds we have," Stokes said. "We plan to continue to do that with the help of our patrons and the hope the state changes its outlook and makes education a priority."