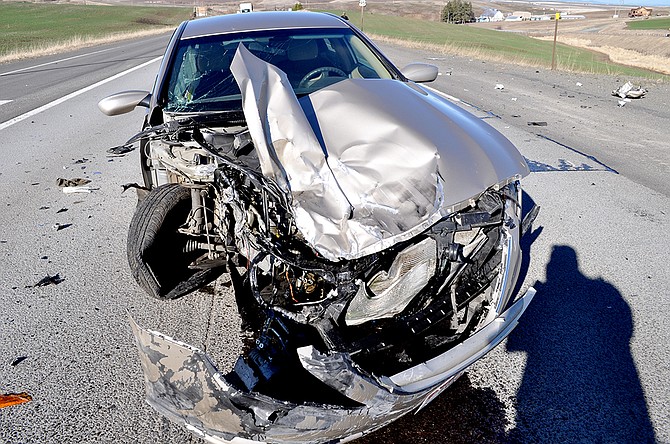 COTTONWOOD – Inattentive driving was cited as a factor in last week's two-vehicle crash on U.S. Highway 95 at Cottonwood. No injuries requiring medical transport were reported.
The crash happened last Tuesday, Feb. 17, 2:01 p.m., at the intersection of U.S. 95 and West Business Loop U.S. 95 Road East (north entrance to Cottonwood), according to an Idaho County Sheriff's Office (ICSO) report.
Andrew J. Connolley, Jr., 80, of White Bird, was stopped at the intersection, driving a 2011 Hyundai Sonata, and continued onto U.S. 95 without observing a northbound 2003 Kenworth logging truck driven by Robert M. Rominski, Jr., 32, of Kendrick. Connolley's Sonata struck the left front drive wheel of Rominski's Kenworth, sustaining heavy front end damage. The Kenworth sustained moderate damage to the middle axle and possible transaxle.
Both men were wearing seat belts, and the Sonata's air bags did deploy.
ICSO Deputy Sam Clark handled the crash with assistance from St. Mary's Ambulance. Long's Towing provided wrecker service for the Sonata. Connolley was cited for inattentive driving.