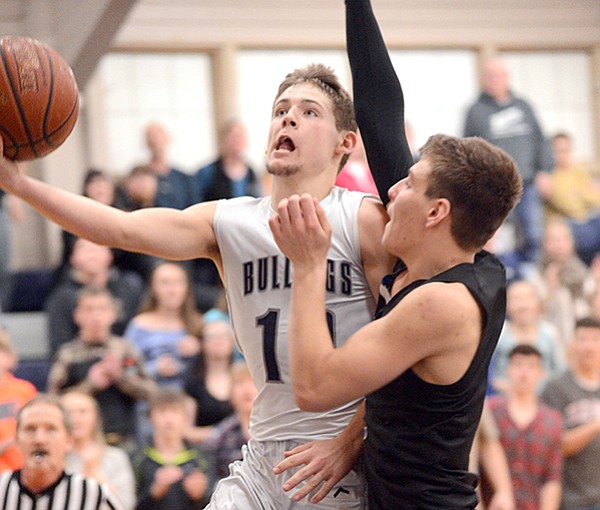 Photo by Andrew Ottoson
The Bulldogs trailed Orofino by 18 last Saturday, Feb. 21, but late in the game, Austin Parks drew this foul and sank the ensuing freebies to bring GHS within a point of tying the 2A District I-II tournament contest.
GRANGEVILLE — "Those guys can shoot," Bulldogs coach Skip Hall said of the Orofino squad after the Maniacs posted a second successive win on the GHS boys basketball court last week. Sharp three-point shooting lifted Orofino over the Bulldogs 54-48 on the last night of the regular season Feb. 17, and the Maniacs again dazzled from downtown on the first night of the 2A District I-II tournament.
Grangeville boys headed to Orofino tonight
In Tuesday night's 2A District I-II boys basketball action, St. Maries defeated Orofino by a point, 51-50, locking up a state tournament berth for the Lumberjacks and forcing an Orofino-Grangeville rematch Wednesday night, Feb. 25, at 6:30 p.m. in Orofino.
In a packed gym that provided a playoff atmosphere from the outset, GHS limited Hayden Wilson to two triples last Saturday, Feb. 21, five nights after he struck five times from long range. Orofino combined for 10 treys, including five by Gabe Turner, but barely held on to win 64-62. Through three quarters, the Maniacs led by 18.
A late surge lifted Grangeville to within one possession of the lead; GHS closed within one point, 61-60, when Austin Parks drew Wilson's fourth foul on a coast-to-coast drive with 1:18 remaining. Grangeville deployed a raging full-court press during the fourth quarter, against which Orofino struggled. The Maniacs closed out the contest by making two of their five free throws during the final minute.
During the regular season finale earlier in the week, Layton Harris (15 points) and Garrett Kennedy (11) paced GHS. Michael Wilson (20) and Harris (19) posted Grangeville's team-highs during the district game.
Coming — Grangeville (12-9) will play at either Orofino or St. Maries tonight, Feb. 25 at 6:30 p.m. With a Wednesday win, GHS would also need to win a play-in game against a District III representative Saturday, Feb. 28, to qualify for state.