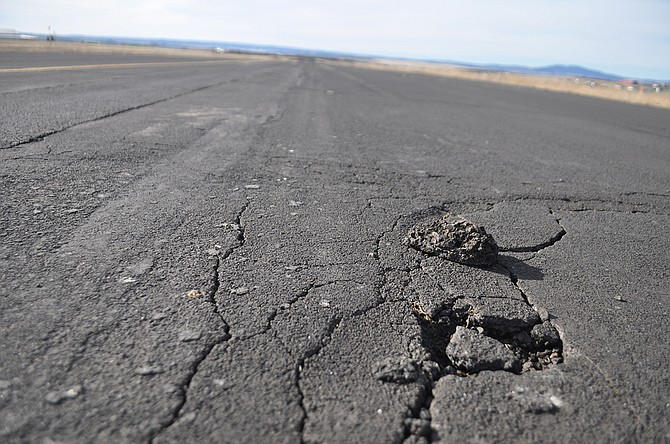 Photo by David Rauzi
Chunks of broken asphalt and cracking, such as pictured here, are signs of underlying runway problems at the Idaho County Airport, which is due for reconstruction tentatively set to start in July.
Construction is set to begin in July on the first of two phases of an estimated $8 million Idaho County Airport runway reconstruction project.
As planned, runway work would last through October, entailing complete closure of the facility to fixed-wing aircraft. Helicopter use at the airport would continue for Forest Service firefighting, medical transport, Idaho Fish and Game and other activities. Then in 2016, the parallel taxiway reconstruction would begin; however, a return to normal flight traffic is not expected to be seriously impacted during this phase.
"This is probably the most important thing we've got going," described airport manager Mike Cook, that addresses significant repairs for safety issues as well as meeting current Federal Aviation Administration (FAA) standards for runway and taxiway separation.
It's a project the county couldn't afford to do alone, according to Cook, and the FAA will carry the greatest financial load – 90 percent – of the work, with the Idaho Division of Aeronautics and Idaho County sharing the remaining 10 percent.
The county has designated Riedesel Engineering to design and oversee construction scheduled to begin July 6, a start date pending bid opening set for April. However, due to Congressional and FAA funding timelines, Cook said it could be June or July before an award would be made, and notification made much later than this could potentially delay construction phases for both this year and 2016.
So, what's the problem? It's twofold: runway deterioration and a too-close taxiway.
"Water is the enemy in this type of soil," Cook explained. Clay holds onto water that, due to both insufficient and deteriorated drainage infrastructure at the facility, forces up into the runway, and through the freeze-thaw cycle it causes cracks and turns up chunks of asphalt.
"We have a minimum of 80-plus, four-inch or better cracks across the taxiway," he said, "and over 100 cracks across the runway," some of which are between four to six inches wide. Regular repairs are made, and the runway is patrolled – extra during the busy summer season – to clear debris. "But as the base gets worse, bigger and more chunks are coming out," he said.
Work proposed this year will construct a new runway, keeping it at the existing 5,100 feet long and 75 feet wide, but shifting it north and east. As well, an estimated 13,000 feet of drainage pipe will be installed to move water from underneath and away from the runway.
According to FAA standards, separation between the runway and taxiway, which is currently 200 feet, needs to be expanded another 40 feet. As well, the reconstruction shifts the runway 100 feet to the east to increase its separation from adjacent Day Road.
Next year parallel taxiway reconstruction will begin in a phased approach that officials plan to minimize disruption to users. Though still pending FAA approval, the plan would allow for fixed-wing aircraft to use the new runway and a portion of the taxiway during construction, which is anticipated to last into that fall.
"Our intent is to use these two sections so we'll always have access to the runway," Cook said.
Airport users have been and continue to be notified of the impending closure, and according to Cook, some of their fixed-wing aircraft activity will be shifted to outlying runways such as in Cottonwood, Kamiah and Orofino. Helicopter activity at the airport should remain unaffected during the project.
State and federal funds for the project are coming largely from aviation fuel taxes. A portion of aviation fuel sale profits at the airport have been set up in a trust fund for the past three years to assist the county in paying for its share, according to Cook. The project has been part of the state and federal Capital Investment Program since 2007.
Additional partners in the project include the Airport Development Authority, U.S. Forest Service, MedStar and LifeFlight, UPS and Idaho Fish and Game.
The Idaho County Airport was originally commissioned in 1941. Its original 3,425-foot-long asphalt runway was constructed in 1965 and subsequently lengthened and widened twice, in 1983 and 1993.
Officials are planning a public meeting in March to discuss the project and take questions. Cook can be reached at 451-0154.