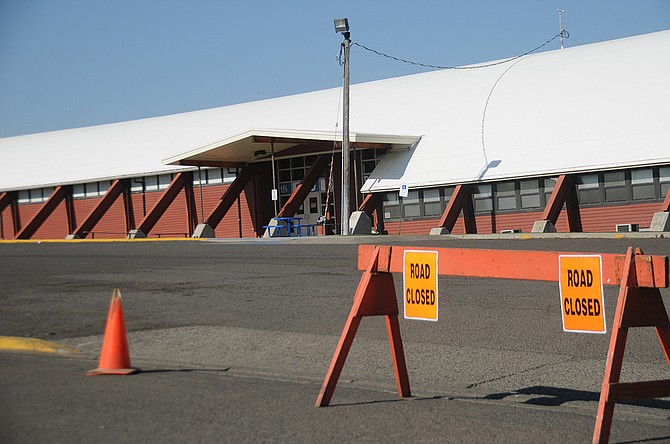 Photo by Lorie Palmer
Newly installed cameras in MVSD 244 should help eliminate bomb threat days such as one that closed Grangeville High School in 2013, seen here.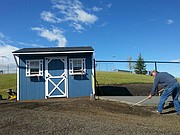 GRANGEVILLE – For Mountain View School District 244 Superintendent Kent Stokes, it's all about local control. Or at least it should be.
"I don't believe the lawmakers in Boise know what's best for our rural schools and I would like to see local control," Stokes said.
Although that doesn't look like it's going to happen anytime soon, Stokes is proud of the accomplishments MVSD 244 has made during the past year.
"We have spent time and money on maintaining what we have and we will continue to do that in 2015," he said.
This includes work on the Grangeville High School athletic field and ticket box, similar work at Clearwater Valley schools, flooring replacement and bathroom updates at both high schools.
"We are also trying to become more efficient with our heating as we replace and repair systems," he said. "We are trying to be smart with our money while at the same time keeping our facilities nice."
Stokes said many volunteer and staff hours have gone into school projects.
"We have incredibly supportive communities along with great kids, an excellent staff and a very dedicated school board," he said. "The mix makes our school district a very good one."
In addition, the district has worked with local law enforcement as it installed new cameras and locks during 2014.
"They have been great to work with and help us out in many ways," he said.
Discussions with law enforcement and staff are also part of the picture as school-related incidents around the globe bring disaster planning to the forefront.
"We had a recent incident with weather where our buses couldn't get to White Bird," he said. "We had a debriefing afterwards to see what we did right and what we could do better. Thinking those things through isn't just for major disasters, but also for the smaller, more likely incidents we deal with."
Stokes said the biggest challenge facing the district in the coming year is financial.
"Let's face it – our state does not fund education at a reasonable level and we have to find ways to make up the difference," he emphasized. "We would like to keep the levy at the same level and not put any more burden on our taxpayers, but to be honest I am not sure we can keep it at the same level as last year."
This year, the district spent money updating some curriculum and plans to overhaul history textbooks at some point soon.
"It would be nice if our history books went beyond World War II," Stokes smiled. "But we're doing what we can a little at a time."
Even with some outdated hardware, Stokes said he feels the teachers do a "great job" and that MVSD 244's students are prepared for college and the workforce.
Stokes said he hopes to be able to see more funding for vocational programs so the high schools can update what kids learn hands-on and prepare them for jobs when they graduate.
"We need to offer our kids a little more modern techniques that some of our local businesses are using," he said. "Not all kids go on to college; we have a good number who want to stay in this area and work. It's important to be able to offer them opportunities where they can be trained and stay local."
Another challenge for MVSD 244 this year has been the addition of 25 students in the special education program.
"This requires different resources that we need to be able to provide to also offer these students a quality education," he explained. "However, we only have a small portion of discretionary funds with most everything mandated. So this is something we have to figure out as well."
Stokes is glad the schools in MVSD are the centers of their communities.
"That's the way it should be – they should be the hubs and they are," he stated.