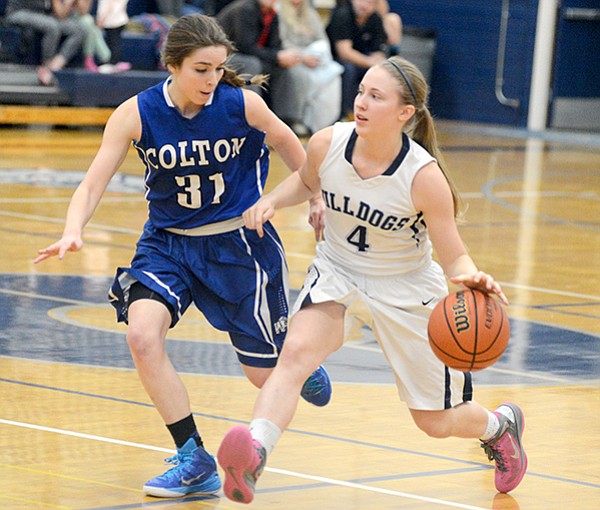 Photo by Andrew Ottoson
Grangeville guard Sarah Wilson finished with four points against Colton on Jan. 13, but pumped in 11 points during Grangeville's 43-31 win over Central Idaho League rival St. Maries last Saturday, Jan. 17.
ST. MARIES — After the host Lumberjacks stumbled to score just three points during the second quarter last Saturday, Jan. 17, Grangeville's boys had a bead on the Central Idaho League's top spot. But St. Maries dialed in on the bottom of the net during the second half and shot its way to the league lead, 55-50, with a win in the Lumberjacks' CIL opener.
The Bulldogs, having beaten Orofino 54-42 earlier in the week, will now have to win the second leg of the series when St. Maries comes to Grangeville on Feb. 7.
In the meantime, GHS will play non-league games against McCall, Genesee, Prairie and the Lewiston JV. Grangeville will host Orofino on the last night of the regular season Feb. 17.
The Bulldogs led St. Maries by double-digits at halftime, but saw the Lumberjacks cut that lead in half, to 39-34, during the third quarter. But GHS maintained the lead until the last minute, when St. Maries' defense forced a couple of timely turnovers on which they capitalized with scores at the other end. Layton Harris led GHS with 13 points and Michael Wilson added 12.
At Orofino last Thursday night, Jan. 15, Austin Parks notched 20 points as the Bulldogs powered out to a 29-16 halftime lead, nearly the whole of which GHS was able to maintain during the second half.
Grangeville's Monday night, Jan. 19, date with Lapwai was cancelled. GHS traveled to McCall after the Tuesday print deadline.
Up next, Grangeville (8-4, 1-1 CIL) is scheduled to host Genesee on Saturday, Jan. 24, with varsity action set to start at 5 p.m. The freshmen are set to go at 2 p.m., with the JV to follow.
GHS girls hit 4-0 in league play
ST. MARIES — Having edged the Lumberjacks on the GHS gym floor earlier this month, the Grangeville girls smashed their closest CIL competitor 43-29 last Saturday, Jan. 17.
With Hailey Sullivan (13 points) and Sarah Wilson (11) striking double-digits — and with a committed performance in their defensive rebounding — GHS squeezed the life out of St. Maries with 12-5 and 13-6 runs during the first and third quarters.
Earlier in the week, Grangeville put Colton to a tough test during the first half of what Colton eventually turned into a 65-37 rout.
But before the Wildcats' long-range shooting put the game out of reach, GHS strung together two quarters of well-matched play, limiting Colton's gunners while also hanging a few fouls on the likes of Zoe Moser.
But Moser, who played essentially every minute after halftime with three fouls, never put herself in a bad spot defensively.
Even as Grangeville's offense slowed, Colton started setting high screens for its snipers, who finished with 12 three-pointers collectively.
Sullivan (12 points) and Madison Brown (10) paced Grangeville in scoring.
Up next, Grangeville (8-8, 4-0 CIL) has four dates left on its
regular season schedule, but none before a Jan. 30 home game against Coeur d'Alene Charter. The GHS girls are set to play at Lapwai on Jan. 31, with Moscow coming to Grangeville Feb. 3 and Grangeville visiting Orofino Feb. 5.