Photo by David Rauzi
Idaho Governor C.L. "Butch" Otter (right) listens to Nez Perce-Clearwater National Forests Supervisor Cheryl Probert prior to last Friday's Idaho-Lewis Capital for a Day event at Kamiah Middle School.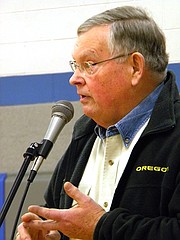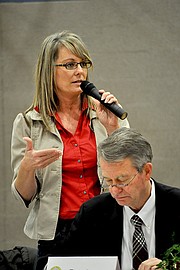 KAMIAH – Constituent questions varied from education to drugs, public lands and Internet taxation at last Friday's Idaho-Lewis County Capital for a Day event.
Hosted by Governor C.L. "Butch" Otter and also attended by members of his cabinet and representatives of state agencies, the all-day question-and-answer session Jan. 16 at Kamiah Middle School drew a packed gym of more than 100 people, augmented by a morning attendance of local students.
•
"How do we get rid of houses that have been abandoned — get them torn down, destroyed — that have been used for meth houses?" questioned Doug Warrington, chair of the Kamiah Planning and Zoning Commission, as well as deal with substandard cleanup efforts by contractors?
Issues surrounding methamphetamine use have been a growing public concern for the Kamiah community for more than a year, among those including dealing with the dilapidated residences left contaminated by its production.
"This goes back to individual responsibility," said Col. Brad Richy, director for the Idaho Bureau of Homeland Security (BHS), whether to the owner if they have insurance, or to the bank or mortgage company if the property is in default. Companies conducting cleanup should be certified to do so, but not all are, and if a contamination job is not completed properly, he advised reporting this to the Better Business Bureau as well as advising other elected officials.
Some federal programs are available to help with cleanup, noted John Cardwell, Lewiston regional administrator, Idaho Department of Environmental Quality, clarifying however it is more geared toward issues on public rather than private property.
The BHS does respond for cleanup, by request, to highway fuel spills, mercury contamination and meth labs, according to Richy, but in the past 10 years those responses have dropped from 400 down to 206 in fiscal year 2014.
"We don't have the appropriate funding to come in and do cleanup," he said. This concern was echoed by Kamiah Mayor Dale Schneider.
"Drug houses, meth houses are a problem in Kamiah," Schneider said, "but we only have the funds for three police officers to cover a seven-day week." The city did have a school resource officer that served in the Kamiah district, addressing drug prevention and safety issues, but that the grant funding ran out and the position was lost.
"That's the problem we have in small, rural communities," he said.
Ruth Mohr of Stites, representing Kamiah Community Partners Coalition (KCPC), presented a question to Otter based upon a recent drug survey given to Kamiah students in grades six through 12.
"Students polled on marijuana use in grades eighth through 11th showed an increase of use from 5 percent in 2012, to 11.5 percent in 2014," Mohr said. "Would you like to comment on the legalization of marijuana in Idaho?"
"No," Governor Otter quipped.
Otter went on to say he believes the best fight against drug use is education.
"The Meth Project has worked for seeing a decrease in methamphetamine use, but our biggest concern now has moved to prescription drugs and the easy accessibility in the family medicine cabinets," Otter added.
Sherri Ybarra, Idaho Superintendent of Public Instruction, added she agrees education is key.
"I am very supportive of restoring Safe and Drug Free School funds and supporting school counselors," she said.
Greg Johnson of Kamiah, former small business owner, asked about Internet tax.
"If Idaho collects an Internet tax for those shopping on-line and bypassing the small mom and pop businesses, what will that money be put aside for?" he questioned.
Governor Otter recalled the implementation of the 1996 sales and use tax which was 3 percent at the time.
"Remember what it was called? The S.O.S tax. That was for 'Save our schools.' It was a tax that literally could take what you grew in your garden or your milk cow – the use part – and charge 3 percent. Be careful what you ask for," he laughed.
Governor Otter went on to say Internet tax is collected though it is difficult to regulate.
"I don't buy on-line – but my wife does. When Lori [Idaho First Lady] tells me how much she spent for the year for tax purposes, I always add a bit onto that," he smiled. "I want to be covered."
Doug Nelson of Kamiah's Blue North Forest Products mill described the Idaho Department of Lands as "one of the most dependable sources of timber in the economy" not only in the state, but the whole region. When Nelson asked Otter to change the "small business set-aside program" – which Nelson called "broken" – IDL's David Groeschl said the department provides a variety of sale sizes including direct sales (of up to 15,000 board feet) as well as a range of what he called "normal timber sales and salvage sales" – 100,000 board feet to a million board feet.
Nelson also asked Otter to increase the state's participation in the Forest Service's public involvement processes – particularly in the Nez Perce-Clearwater National Forest's ongoing revision of its 1987 plan.
When Catherine Hicks asked about Idaho's pursuit of a transfer of federal public land to state ownership, Otter said a series of hearings held around the state last year considered the cost and "concluded that we couldn't afford that land. But through the department of state lands, and with the help of our federal delegation, we're doing an awful lot to trade some state lands – we were given sections 16 and 36 out of every township at statehood in 1890 – we're doing our level best to trade the cow-faced lands that are so steep you can't do anything with them but look at them…for lands that we can use economically, that we can put in to our economy."
Otter also described a section of the most recent Farm Bill, which gave governors the authority to take an inventory of federal forest lands with an eye toward treatment of "overgrowth, fire or bug and disease kill." He said 12 million acres require such work, and "out of that a critical 1.8 million acres which we are now putting a program in place where we're going to be able to go in and harvest those lands and protect them not only from wildfire and bugs, but also bring the resulting cut into our economy – much like they're doing on the Clearwater National [Forest] right now. In fact I think you increased that up to 65 million board feet last year."