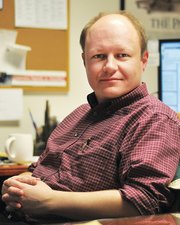 "I have a question."
Public turnout at last Friday's Idaho-Lewis Capital for a Day event showed lots of folks had questions for their governor and public officials.
It also showed there's plenty of interest in politics, especially if you can get it straight from the horse's mouth.
We won't belabor the point on why there's a value in such Q&A sessions. We will say that more of our public officials need to take up Governor Butch Otter's example and set aside the time to both listen and respond to constituents' concerns. And we'll give you two close-to-home "for examples."
Redistricting has put Idaho County within a much larger and more diverse political grouping as part of District 7. With no elections staring our officials in the face this year, this would be a good time for Senator Sheryl Nuxoll and representatives Paul Shepherd and Shannon McMillan to set aside an evening to meet with Idaho County residents on not only the outlook for the session this year, but also in the challenges they see in serving this expansive district.
City councils have meetings every month, but agendas – scheduled in advance — don't allow for much public inquiry beyond the approved business topics. Our challenge this year is for councils to open up two meetings a year for public comment; clear some or all of the docket and invite residents to come in with their questions and concerns. The difference? "Public meetings" are the council's, with the public being an invited but largely silent guest. Inviting the public for their comment makes it their meeting to control the flow of topics and opinion.
Like it or not, elected officials, you have a responsibility for outreach to your constituents; set aside the time and place, and do so.