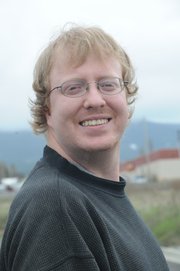 Symbols mean something different to everyone who looks at them. They are matters of opinion, but when widely-shared, symbols can unite communities as large as nations around a shared sense of values. When enshrined in law, mere symbols can shape what about our society will stand the test of time.
As symbols are inherently subjective, political symbols are usually controversial. But Idahoans could certainly have taken pride in Boise-area eighth-grader Ilah Hickman's years-long ongoing effort to move her proposal to call the Idaho Giant Salamander our state amphibian through the legislature.
Depending on one's partisan bent, a state legislature committee's vote to stop Hickman's bill, reported Monday by the Spokesman-Review, may reflect prudence and discretion or ignorance and cowardice.
Idaho has no need to declare a state amphibian, but the committee missed a golden opportunity to hold up Hickman's dedication – to both her cause and the legislative process – as a reminder that our state is responsive to the interests and ideas of its people, as Idaho should forever be.
While Hickman herself might rather see the salamander enshrined in law, lawmakers should have jumped at the chance to hold her effort out as a symbol, for several reasons:
• To affirm that among hobbies, civics is a fine choice for young people;
• To affirm that among Idaho's young hobbyists, Hickman's personal commitment to passing a bill has been extraordinary and praiseworthy;
• To affirm our way of writing laws is open to participation from all citizens – not only those who hire professional lobbyists; and,
• To affirm our government answers to those who choose to participate.
Some members of the House State Affairs Committee stated concern that Hickman's bill would somehow unleash unprecedented "federal overreach" – a fear unfounded in law, according to the Idaho Attorney General's Office. One committeeman ticked off a list of reasons he personally doesn't think a salamander would be a good symbol. While prudence and discretion may be sufficient cause for inaction when the stakes are low, the stakes are higher than the simple question of salamander symbols.
By denying Ilah Hickman's idea a chance to face a vote, the committee effectively voted to deny special status to an increasingly rare type of human being: one who embodies not only passion for a political cause, but also the patience and persistence to play out the process.
Legislators will get another shot. Hickman told the Spokesman-Review: "I was kind of disappointed, but either way I'm going to come back next year and push it again. I'm going to keep pushing, until it either passes or I can't get hearings any more."
Hers is an example everyone who looks to the statehouse for answers should follow.