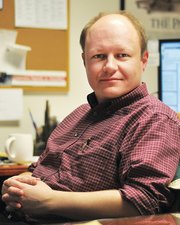 Whew! Hot enough for ya? What a way to start off the week going into Border Days.
Grangeville's biggest event of the year seems to more than double the population of town for a few days, and provides a great break away from the daily grind.
And just because we're opinionated, we'll give our readers – both seasoned locals and wide-eyed visitors – a few things to be looking for in the next few days.
Ready for Street sports: Egg toss is where it's at. Where else will you see hundreds of people packing Main Street and tossing raw eggs? It's a county original, and almost as fun to watch as it is to participate.
Boots on for rodeo: For the casual observer, it's all pretty grand, but the calf scramble is a fun event to break up the barrel racers and all those bull riders eating dirt. It's all about the chase and those little kids going diaper over tea kettle to catch a calf that is just smart enough to keep it interesting. Parents looking for some quiet time may want to enter their brood to burn off some energy.
Want rodeo on the cheap? Free admission to rodeo slack on Friday, 10 a.m.
I love a parade: There are three, so you have your choice; best one, of course, is July 4. Take a better chair as those bouncy, wooden planks get a little wearing on the backside. Pack money as you'll need it for passing water vendors and the kids seeking donations for the fireworks fund. And … if you see folks (school reunion floats are most suspect) with anything that holds or shoots water, better cover your camera and duck.
And where to watch? Depends. Want shade? Park yourself on the south side. Want a great overall view? Get up on China Hill early (really early) and find a spot at the park or by Les Schwab for a panoramic view.
Please eat: Of all the concessions food, fry bread (what they call "scones" here) is your best bet: hot, buttery and fatty. With some maple syrup it is tops for your downtown dessert. Funnel cakes are a close second.
And what else? Give mom (or dad) a break and hit the morning breakfast at the Masonic Lodge. Get out of the sun and into air conditioning at the Bicentennial Historical Museum; a great collection of American Indian artifacts are on display. Get rid of the kids at the pool, open July 3 and 5. Need a break? Lions Park has a lot of wide-open space to get quiet in, as well as the eastern portion now open to run your dog (but use the waste stations, please!).
And just check through the paper this week as there's much more going on.
Let's take a break, release some tensions and have a great Border Days and July 4 celebration. We'll see you out there!