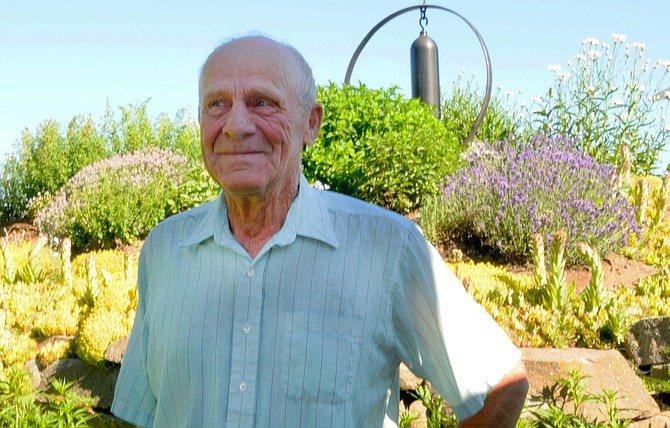 Photo by Lorie Palmer
Tony Jentges
JENTGES ROAD — Tony Jentges may have traveled across the world, but in many ways he is right back where he started from.
Fourth of July celebration begins with flag raising
GREENCREEK – The annual Greencreek community Fourth of July celebration is set for Saturday, July 4, downtown Greencreek. All activities are sponsored by St. Anthony's Catholic Parish and the Altar Society and are centered at the church, yard and community hall.
The day's activities include the following:
•Flag raising and recognition of grand marshal, 6 a.m.
•Breakfast, 7 to 10 a.m.
•Concessions and Bingo, all day
•Kiddie's rides, all day
•Kids' races, noon
•Hamburgers and pies, noon
•Raffle and auction, 1 p.m
"It's a great celebration and we invite the surrounding communities to attend," said organizer Ken Stubbers. "A lot of people who used to live here come home to attend this. It's a chance to see everyone and visit."
In the past proceeds from the day's events have helped St. Anthony's and the Greencreek Altar Society help with a variety of projects including providing a cooling system, updating the priest house and giving donations to the local 4-H Club, Hope Center, youth group and to the Quilts of Valor program.
Jentges is the Greencreek Fourth of July celebration grand marshal for 2015.
Tony was born and raised on the family farm, on Jentges Road just past Cottonwood. He attended elementary school in Greencreek and then went on to St. Gertrude's Academy in Cottonwood. He then attended Carrol College where he majored in social studies with plans to become a teacher.
"It didn't quite work out that way," the 67-year-old smiled.
Jentges said he "won the lottery. The only one I ever won."
"I didn't play but I won anyway," he said, and, at age 22, he found himself in the U.S. Army.
He traveled to Germany where his job was as reenlistment clerk.
When his father's health declined, Jentges, the youngest of his siblings, obtained an early release from the military and came home to run the family farm. It's where he's been ever since.
Jentges married Cottonwood native Geralyn Seubert and during their years together – 40 so far – they raised three sons and a daughter.
"This has been a great place to raise a family and to live," Tony said.
"Yes, and we've been blessed with great neighbors," added Geralyn.
The only problem for their kids, they said, was dating.
As Geralyn was a Seubert and her mother a Lustig, "whoever I wasn't already related to, I became related to when I married Tony," she laughed.
"The kids said, 'who can we date? We're related to everyone!"' smiled Tony.
The boys remedied that when they each left the area, married and now live in Oregon and Washington. The Jentgeses now have six grandchildren. Daughter Dorothy struck out on her own adventures and returned home within the past few years and now helps with the cattle and other farm duties.
"We love having her here – it's been wonderful," Geralyn said.
"I can tell you – I'd never be a bigamist – I just don't understand it. More than one woman telling you what to do?" Tony joked, shaking his head at his wife and daughter.
The couple will host about 40 family members for the Fourth.
"It's a lot of fun," Geralyn said. "Tents all over the yard and lots of activity."
The Jentgeses have been a part of the Greencreek celebration for as long as they can remember.
"I was involved even when I was a kid," Tony said.
They enjoy the chance to visit with friends as well as help: Tony will start his day at the early morning flag raising them help clean up following the breakfast. Geralyn helps with the pies and luncheon.
"Everyone at home is on their own on the Fourth," she laughed. "There's plenty to do and plenty to eat in Greencreek."
The Jentges farm is much as it was in days past, except they no longer milk dairy cows, grow black peas or raise pigs. They have hay, wheat, barley, oats and cattle, plus two dogs.
"And horses," Geralyn said.
"The women have horses," Tony emphasized.
Dorothy's geese lay eggs for the family and Geralyn grows a large garden.
The farm home Tony helped build when he was 8 years old is filled with wood paneling milled by his father's own hands from their own trees.
"On a farm or ranch you're tied to the land in more ways than one," Tony said. "It's been a good life. I really don't have any regrets about where I am or what I'm doing."