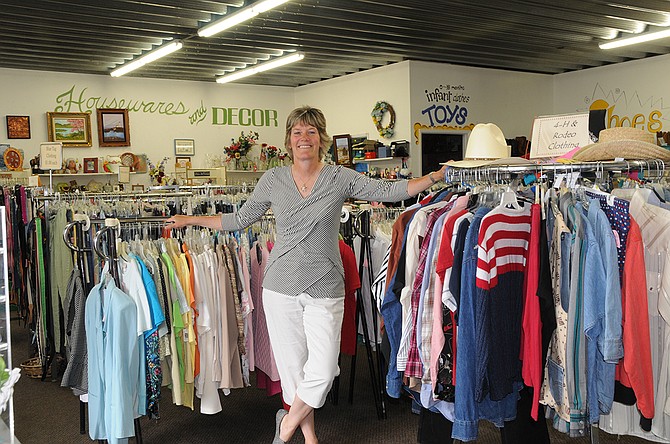 Photo by Lorie Palmer
Kristi Brooks has taken the positon of manager at Syringa Thrift Store in Grangeville.
GRANGEVILLE — Kristi Brooks Soltman has come full circle.
Soltman was born and raised in Grangeville, the youngest daughter of Dr. Jack and Fran Soltman.
"I grew up in Syringa Hospital," she smiled. "I would follow my dad around with my own clipboard, 'taking notes.'"
Brooks was recently hired as the manager of Syringa Thrift Store. She replaces Laurie Rad, who has been at the store since it opened 13 years ago. Rad is moving to Coeur d'Alene to be closer to her oldest daughter and her grandchildren.
Brooks graduated from Grangeville High School and went on to attend the University of Idaho where she studied communications and marketing. She went on to work in Washington, D.C., for an upscale clothing store for six years, then was hired by Starbucks.
Eight years ago, Brooks and her husband of 21 years, Powell, moved back to Grangeville. She commuted to Seattle for eight years for her Starbucks job. Recently that job was consolidated and to keep it she would have had to move back to Seattle.
"I opted out of that as I want to stay here where my mom is," she said.
Brooks served on the Syringa Foundation Board for three years and Powell worked for several years at Grangeville Builders.
"He is now retired, but I was too young to retire," she smiled.
When Rad made it known she would be moving on, Brooks applied for the job. She got it and resigned from the foundation so there would be no conflict of interest.
"I only wanted the job if I was the best person, the best fit for it," she said. "I am not a boss, I am a servant leader. The volunteers run this place, and they do an amazing job."
Brooks said she is happy to extend her legacy with the hospital, which also involved being a candy striper in her teens.
"One of my greatest joys was the opportunity to feed a long-term patient who could not feed herself," she recalled. "I feel a strong connection to Syringa, and I am so happy to be able to continue that."
Brooks has had the occasion to be out on the store floor, and she said she loves the "hum of the store on a busy day; seeing the people lined up outside the store on open days." She also loves to see the energy and eagerness the volunteers expresss, she said.
"I love it. Retail never really gets out of your blood," she said. "This is such an amazing asset to the community in more ways than one."
As of 2014, the Syringa Hospital Auxiliary, which governs the thrift store, has given more than $250,000 back to the hospital and community for special equipment and projects. Nearly 50 volunteers sort, clean, stock and work at the store on a rotating basis.
Even Powell is involved at the thrift store: He volunteers in the electronics department.
The couple has one son, Tyler, who is married and is a school teacher in Georgia. The Brooks visit there when they are able. They also have a collection of animals they enjoy.
"We love living in Grangeville and I am continually amazed at the support from the community to the hospital and the thrift store," Brooks said.
The thrift store is open Tuesdays, Thursdays and Saturdays, 10 a.m. to 4 p.m. Drop-off for donated items is available seven days a week at the store, located on U.S. Highway 95 between the Grangeville Chamber of Commerce Visitors Center and The Depot. Stop by or call 983-3899. Like "Syringa Thrift Shop" on Facebook.