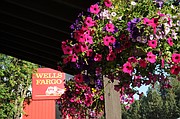 Cottonwood Senior Citizens
Dolores VonBargen opened the July 7 meeting of the Pioneer Senior Citizens with the Pledge of Allegiance and also led the dinner prayer. Guests this week were Willene Lance of Grangeville and Glenda Scott, sister of Donna Barnett. There were 36 dinners served with 14 takeouts. Irene Terhaar won the free dinner.
Vera Holthaus was the only one to share a joke this week.
Dolores VonBargen won the nickel bingo pot while Katie Remacle won the blackout pot. Door prize winners were Dolores Seubert, Donna Barnett, Eleanor Hinkelman, Marianne Wren, Dolores Kindall and Ron Sonnen.
Menu for July 21: salad bar, sliced meats, vegetable salad, sliced tomatoes, potato salad, fruit cup and apple bread pudding.
4-H Crazy Critters 4-H Club
On July 6, Crazy Critters 4-H meeting began at 6:31 p.m. Our attendance for the evening was one guest, three leaders, and six members. President, Savannah Thanstrom, opened with greeting and announcements. Aaron Forsman led the group in the American pledge and Gabe Forsman led the group in the 4-H pledge.
Treasurer, Gabe Forsman gave the current bank account report. Old business was discussed, such as: the 4-H bake sale, which went very well and the Animal Ark donations that were collected. Also, fair decorations and photos were discussed.
August meeting day will be Wednesday, Aug. 5, at 10 a.m. We will be working on decorations for the fair. Michelle Thanstrom will purchase needed decorations. After the meeting all club members presented their demonstrations. We all enjoyed dinner at the Thanstrom's home before our meeting.
— Rachel Gulotta
Grangeville Senior Citizens
The July 10 meeting was opened with the Pledge of Allegiance led by Stanley Modrell and the prayer was given by Barbara Essen. The free dinner came to Dolores Smith. There were 57 meals and 37 takeout meals served.
The nickel pot was won by Donna Barnett. Blackout winners were Jeanette Chilini and Jim Barnett.
There will be a board meeting July 21 at 9 a.m.
The menu for July 17: baked fish, tartar sauce, potato wedges, sliced tomatoes, broccoli/cauliflower, watermelon and apple cake; July 20: meat loaf, mashed potatoes, brown gravy, green beans, carrot-raisin-pineapple salad, chilled peaches.
More like this story