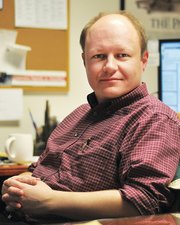 Rural communities are needy: needing jobs, needing access to services (social, health), needing a healthy retail district, needing a crime-free environment.
But what about a community hall? We'd argue such a facility serves a vital role in the connectedness and continuation of a rural community, a rallying point to help hold it together.
This was brought to our attention recently with news that Elk City will need to be dismantling its long-serving hall, and the future of a new one is, well, in the works. This also recalled to mind a similar hall in Stites years ago that had to be taken down, and currently the dirt lot where it stood stands empty.
This got us thinking about such facilities and their local importance.
Many facilities can serve the purpose of community gathering space, and have in our area, such as churches or senior centers, schools or government offices. But with these come some strings on allowed usage and their availability, as well as some hesitancy for folks to meet in such locations due to the primary use of such facilities. They'll do, in a pinch and with nothing else available, but it's not really the best option.
Having a community hall serves as a social hub and as well a neutral ground gathering place for issues of local concern; its presence serves existing activities and can also spur on new ones to form due to an available venue to handle a public gathering.
For the last several years, Cottonwood has been active in remodeling its facility that is an exciting multi-use facility for not just public events but as well a senior center and a beautiful library. If you're looking for a model to emulate, Cottonwood is one to visit and should serve as a point of local public pride.
"Yeah, so … what are you getting at?" you may ask. Merely your time to consider how your community is being served, or not, with such a gathering place. And whether you see that as important. And perhaps, it's an opportunity to rally around and support, whether in remodeling and existing structure or building a new one entirely.
The obvious questions to ask up front include what is the community need for such a facility, and is there the support to continue a long-term effort to bring this to fruition? But part of this is who else can be partners with such a project? Are there existing community organizations or governmental agencies to be brought on board that could benefit from being part of such a facility and that would add extra bodies and more connections? The planning is challenging but not daunting; more time-consuming than anything.
One of the strengths of rural communities, and what is heard when visitors come to Idaho County specifically, is on the familiarity here, the "knowing your neighbors" and sense of community that is otherwise in short supply in larger suburban and urban areas. If you're looking for a way to maintain that essential neighbor-to-neighbor connection in your community, supporting a community hall project is a worthy effort for your time.