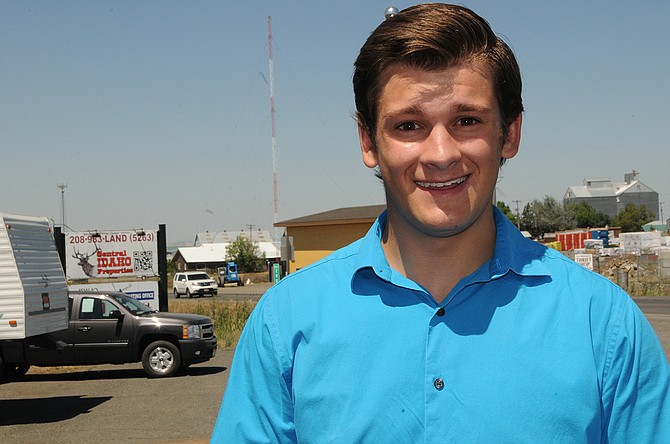 Photo by Lorie Palmer
Travis Goehring is now a full-fledged real estate agent currently employed at Central Idaho Properties.
GRANGEVILLE — Just a few short weeks after graduating from Grangeville High School, Travis Goehring didn't expect to find himself hitting the books. But he did. And hard.
Goehring took the real estate licensing class and test recently.
"It's like cramming a semester of college into two weeks," he laughed.
The 19-year-old spent two weeks in Boise attending Idaho Real Estate School and studying for the tests, which he passed to gain his licensing credentials and real estate agent status.
Gohering has worked for the past four years in the office of Central Idaho Properties, where his mother, RaWanda, is the owner and broker.
"She asked me if I might be interested in getting my license since I have been around her and have had the chance to see how the business works," he said. "I thought it would be a great asset for me during college. I'll always have a summer job."
Goehring will attend the University of Idaho this fall where he plans to pledge a fraternity and study mechanical engineering.
"My goal is to eventually come back to the Grangeville area because I love Idaho County," he said. "I also know that might mean I need to diversify in my career path. Maybe I will get a part-time job in my field but will still need something to supplement that. This is the perfect job."
Goehring said he enjoys working with people on all levels and is excited to help them find the properties and homes they are looking for or looking to sell.
"I like to talk," he laughed. "I think I'm a good fit for this job in the fact I enjoy people as well as love the area."
Goehring has his agent and Realtor credentials and is fully ready to serve the public. Call him at Central Idaho Properties at 983-5263; stop by 34 Highway 95 North, Grangeville; e-mail Travis@CentralIdahoProperties.com; or reach him by cell phone at 507-0432.